Ethan Hawke says a third "Before Sunrise" film is coming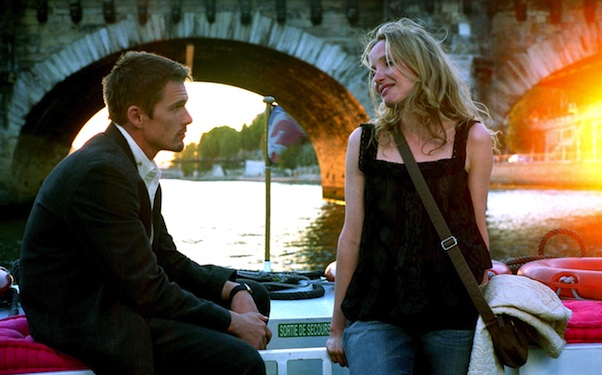 Posted by Matt Singer on
The Playlist spotted an incredibly cool and suprisingly informative interview with actor Ethan Hawke over at the French magazine Allocine. Instead of asking Hawke questions, they played him various musical tracks that connected to his career and let him free associate responses. So if they played him "Paperback Writer" by The Beatles, he'd talk about his own career as an author as well as the many times he's played authors onscreen.
One of Hawke's best known performances as a writer came in the "Before Sunrise" films — and Hawke told Allocine during that part of their conversation that he, co-star Julie Delpy and writer/director Richard Linklater are planning to start work on the screenplay for a third "Before Sunrise" film later this year. The beloved series of romance films started in 1995 with "Before Sunrise," where Hawke and Delpy meet as strangers on a European train, then spend one magical night wandering through Vienna. It continued in 2004's "Before Sunset," where Hawke and Delpy reconnect at the Paris stop on his book tour and spend the few hours before his flight home catching up and reminiscing. Now, Hawke says, the trio's ready to reunite for a third time:
"I don't know what we're going to do but I know that the three of us have been talking a lot in the last six months. All three of us have been having similar feelings that we're ready to revisit those characters. There's nine years between the first two movies. If we made the film next summer, it would be nine years again, so we started thinking that would be a good thing to do. We're going to try to write it this year."
Listening to Hawke talk about the "magical" process of making those first two movies with Linklater and Delpy, it sounds like "Before Sunrise/Sunset" is the rare film franchise that's as beloved by its creators as by its fans. Linklater, Delpy, and Hawke aren't making these movies to satisfy our curiosity about Hawke's Jesse and Delpy's Celine. They're making them to satisfy their own curiosity. Hawke told Allocine, "If I had to pick some of my creative times of my life, a lot of them would be writing with Julie and Rick." Lucky for us it looks like the creative times are about to start again.
You'll find the entire interview embedded below.
Which do you like better: "Before Sunrise" or "Before Sunset?" Tell us in the comments below or write to us on Facebook and Twitter.