Emma Stone and Sean Penn flash smiles in new "Gangster Squad" set pics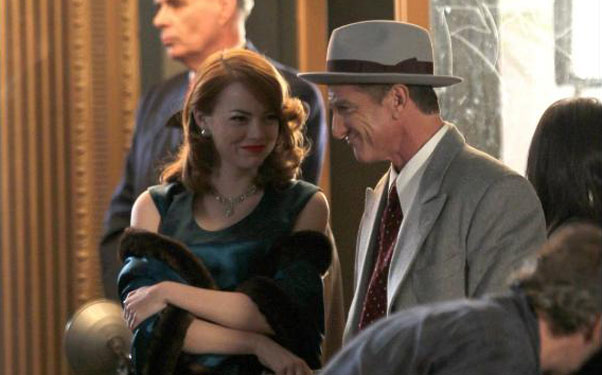 Posted by Terri Schwartz on
The onscreen love triangle in "Gangster Squad" is coming to life in recently released paparazzi photos from the set. Last month, images of stars Emma Stone and Ryan Gosling getting cozy during a picnic — with a bulldog and a fedora, no less — hit the web. It was clearly love was blossoming onscreen between the "sharp-tongued siren" and the police officer based on the spit they were swapping in some of the pictures, but now a whole slew of new photos show Stone's character hitting the town with Sean Penn's gangster character, Mickey Cohen.
The two were filmed linked arm and arm as they exit their car and are swarmed by press. Stone looks glamorous as she flashes a sultry look at the camera in one photo, and poses for a picture in another one. Penn, on the other hand, can be seen lounging around set in a chair and shares some laughs with Stone when the camera stops rolling.
"Gangster Squad" marks the first drama directed by "Zombieland" helmer Ruben Fleischer. The crime flick is based on the L.A. Times's seven-part series of articles "Tales From The Gangster Squad" by writer Paul Lieberman that followed the LAPD's war on infamous mobster Cohen. Gosling and Josh Brolin play two cops trying to take down Cohen. Stone plays a woman named Jean caught in the middle of a love triangle between Cohen and Gosling's character.
Based on the set photos released, it doesn't seem like Jean is making a decision between her two men any time soon. "Gangster Squad" is currently filming, and is slated to hit theaters on October 19, 2012.
What do you think of these photos from the set of "Gangster Squad"? Let us know your opinions in the comments section below or on Facebook and Twitter.