Four Elvis Presley movies currently in development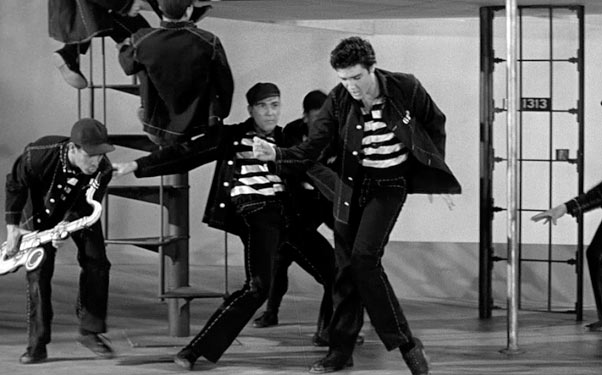 Posted by Terri Schwartz on
Hollywood is shifting its focus to The King. After many years of the film industry trying to put together a biopic about Elvis Presley, it seems like the time has final come for the famous rock'n'roll musician to get his time on the big screen.
The Hollywood Reporter is running a story about the many projects about Presley currently in development in Tinseltown. Most notable is the flick "Elvis & Nixon," which centers on an encounter between the singer and president in 1970. The film marks Cary Elwes' directorial debut, and currently has Eric Bana lined up to star as Elvis while Danny Huston will star as Nixon.
But that is just one of four projects centered around The King currently at play. Steve Bing has long been trying to make a biopic about Presley with "American Idol" creator Simon Fuller. His flick, "Last Train to Memphis" (based on the biography of the same name), is currently set up at Fox 2000 and is expected to be a traditional biography. Then there's "The Identical," which focuses on an Elvis impersonator and "has a faith-based bent." And lastly there's "Fame & Fortune," which is based on a memoir by one of Presley's bodyguards and will be directed by "The U.S. vs. John Lennon" helmer John Scheinfeld.
One of the problems in developing a movie based on Presley's life is the fact that Sony BMG has been protective about giving out the rights for Presley's music to filmmakers. But the company CKX, which acquired 85 percent of Presley's rights from his daughter Lisa Marie Presley, also has to approve all uses of his likenesses, and they are notoriously tightfisted as well. All in all, the process could get pretty pricey for prospective filmmakers.
Only time will tell whether The King gets his time in the spotlight. But in all likelihood, what will end up happening is that all the projects will be greenlit at the same time, and then after 34 years since his death, the box office will be swamped with a deluge of Elvis projects.
Which of the four films in development would you most like to see get made? Tell us in the comments section below or on Facebook and Twitter.