Bane and Batman revealed on new "The Dark Knight Rises" magazine covers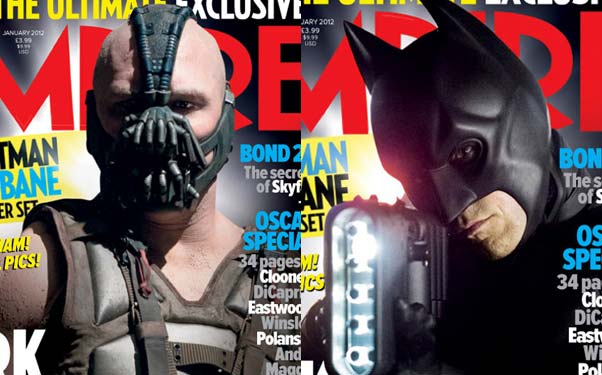 Posted by Terri Schwartz on
Empire magazine has had a long-standing relationship with Christopher Nolan's Batman film series. Back in 2007 when fans were still convinced that Heath Ledger could never do a better job than Jack Nicholson portraying the Joker, it was Empire that revealed the first image of him in costume with the tagline, "He is coming…" And while the unveiling process might not be as dramatic the second time around, Empire now has two of the first promotional shots from "The Dark Knight's" upcoming sequel, "The Dark Knight Rises."
The first image of Tom Hardy as Bane was revealed four months ago through a "The Dark Knight Rises" viral website, but the January cover of Empire offers the first straight-on shot of the new Batman villain in all his terrifying glory. People who thought Hannibal Lecter was scary with his face mask better do their best to not catch an eyeful of Bane.
The other Empire cover features the now-familiar shot of Christian Bale as Batman. This time around, however, he's holding what's either a terrifying new gun or a really glorified flashlight. Batman is sure to have plenty of new gadgets in "The Dark Knight Rises," but this is the only one teased on the cover of this issue.
Superhero Hype apparently got their hands on the issue early and uploaded a bunch of scans of the images included in the article for us fans to feast our eyes on. Definitely the coolest one in the bunch is the shot of Bane holding up an image of the late Gotham district attorney Harvey Dent in a threatening manner. The new photos only showcase Batman and Bane in action, but they're some of the first official stills to be released in a production overrun with fan set photos.
The magazine hits stores on Thursday (happy Thanksgiving from our favorite movie-loving Brits, I guess), and Empire promises plenty of new details from the production in the meantime. "The Dark Knight" is scheduled to hit theaters on July 20, and also stars Anne Hathaway, Joseph Gordon-Levitt, Marion Cotillard, Juno Temple and Morgan Freeman.
What do you think of these two new covers? Tell us in the comments section below or on Facebook and Twitter.