Drafthouse Films acquires "Clown" and "Bullhead"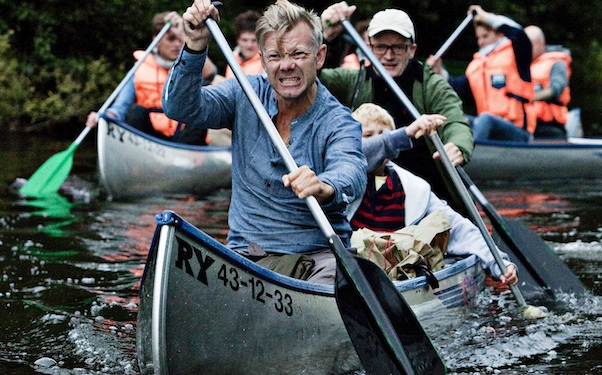 Posted by Matt Singer on
I had a couple of favorite films at Fantastic Fest this year: the French action thriller "Sleepless Night", the Norweigan twist-fest "Headhunters," and the Danish comedy "Clown," which I called "the funniest movie you probably won't see this year." Why didn't I think you'd see it? Because the movie contains some of the edgiest (and most graphic) sexual humor I've ever seen in a movie. "Clown" makes "Porky's" look like a Porky Pig cartoon. I doubted whether the movie could ever find uncut distribution as a result.
Well, I have good news and bad news. The bad news is I was right: you won't see "Clown" this year. The good news is that's because you'll see it in 2012, as Drafthouse Films announced at the American Film Market that they had acquired the film for U.S. release. Drafthouse also acquired another Fantastic Fest title (one which I didn't get a chance to see) called "Bullhead" and announced it had signed a distribution deal with Image Entertainment. Here's an excerpt from that release:
Drafthouse Films also announced today that it has acquired North American rights to award-winning films, the riveting crime drama "Bullhead," Belgium's official 2012 Oscar® candidate for Best Foreign Language Film and the outrageous international hit comedy, "Clown." Michael Roskam's "Bullhead" is a stunning debut and a harrowing tale of revenge, redemption and fate. The film has played to critical acclaim at Berlin Film Festival, Fantasia and Fantastic Fest and was called "one of the most powerful experiences I've had in a film this year," (Drew McWeeny, HitFix). Mikkel Nøgaard's "Clown" has been hailed as "the funniest movie of the year!" (Matt Singer, IFC) and "raunchy, fearless and awesome!" (Eric Kohn, indieWIRE). The uproarious comedy follows two wildly inappropriate friends as they run amok through the Danish countryside plowing through social taboos and unspeakable debaucheries. Also planned for Drafthouse Films in 2012 are the recently announced releases of SXSW '11 favorite "The FP" and the stunning new RealD™ 3D restoration of '80s cult hit "Comin' At Ya!"
As you can see, all the important critics agree with me (or are me) about this movie. Right from its very first release — the terrorism comedy "Four Lions" — Drafthouse Films has proven itself a champion of the sort of ultra-edgy movies other distributors won't touch. So I have every hope that you guys will get to see "Clown" exactly how I saw it: in all its raunchy, inappropriate glory.
Also it's worth mentioning: there are no clowns in the movie. It's totally safe for coulrophobics. Genophobics, I'm afraid, will need to seek entertainment elsewhere.
Which do you want to see more, "Clown," or "Bullhead?" Tell us in the comments below or on Facebook and Twitter.