Christian Bale calls "The Dark Knight Rises" the end of an era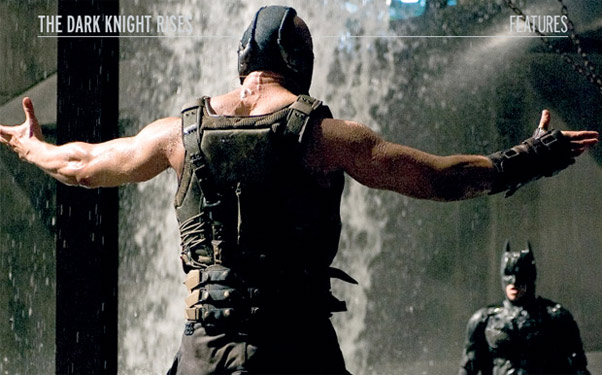 Posted by Terri Schwartz on
Christian Bale isn't afraid to share the spotlight. Though "The Dark Knight Rises" is still eight months away, the actor is making publicity rounds to promote the film now that it's finished shooting. It turns out that he was a pretty big fan of his fellow cast members who were new additions to the franchise.
In an interview with Philippine Daily Inquirer, Bale said that his onscreen nemesis Tom Hardy is a "phenomenal actor."
"I like working with him a great deal. He goes the whole hog," Bale said. "I know that Bane has been seen in movies before. But, in my eyes, Tom is essentially creating Bane for the first time so there's great freedom for him to be able to do so."
That's not the only "The Dark Knight Rises" actor Bale was a big fan of. He defended Anne Hathaway's Catwoman, saying that she has "the hardest job" of the cast.
"I'm terrible at auditions, so I'm very impressed when somebody really seems to acquire an ownership of a character without having worked on it or prepared for some amount of time. I saw that in Anne," he said. "There are a number of people who feel that the Catwoman role has been defined previously. So, I always saw Anne's role as being the toughest job of any of us."
He added about newcomer Joseph Gordon-Levitt that the "50/50" actor is "a very intriguing guy." "He's somebody who truly seems to love acting," Bale said. "He's a good, smart guy. He did a very good job in the movie."
Bale confirmed to the newspaper that filming had just wrapped on "The Dark Knight Rises," and said that's the last time he'll be putting on the Batman costume on.
"I wrapped a few days ago so that will be the last time I'm taking that cowl off," he said. "I believe the whole production wrapped yesterday, so it's all done. Everything's finished. It's me and [director] Chris [Nolan] — that will be the end of that Batman era."
In addition, we have a higher-res look at the Batman and Bane images from the Empire magazine scans we posted last week, courtesy of SuperheroHype. Now you can see Hardy as Bane in his full, terrifying glory.
Are you looking forward to "The Dark Knight Rises"? Tell us in the comments section below or on Facebook and Twitter.