"Another Earth" star and co-writer Brit Marling talks how life has changed since Sundance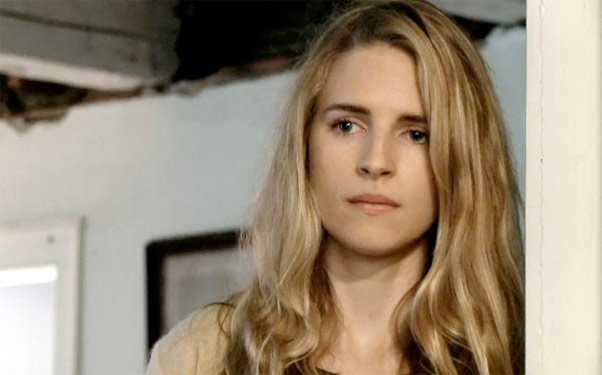 Posted by Terri Schwartz on
Seemingly overnight at the 2011 Sundance Film Festival, Brit Marling went from relatively unknown documentary writer to the newest critically acclaimed indie darling. Marling both starred in and co-wrote two of the most well-received films at Sundance: "Sound of my Voice" and "Another Earth," which won the Special Jury Prize. The latter went on to have a limited theatrical run in July and debuted on DVD this week.
In the 10 months that have passed since Sundance, life has changed pretty significantly for Marling. She has reteamed with her "Sound of my Voice" director and fellow Georgetown University alum Zal Batmanglij for the upcoming film "The East," which Marling again co-wrote and stars in. In addition, she has been brought on board her biggest production to date in Robert Redford's thriller "The Company You Keep," due out in 2012. All while still continuing to work and develop new projects, of course.
IFC had the chance to catch up with Marling on the phone over the Thanksgiving weekend to talk about how life has changed for her since she became an overnight sensation. Turns out, it hasn't changed too much.
---
IFC: It's been four months since we last spoke to you. How has your life changed since "Another Earth" hit theaters?
Brit Marling: It's been beautiful. It's been really cool to see the film enter the world and just see the audience's response to it. On a person to person level, at festivals and theaters and even just randomly, the tweets that ["Another Earth" director] Mike [Cahill] will sometimes show me about people, people from all over writing various reflections on the film and that's really cool.
I think when you make a movie, I don't know, you hope that it connects, that it moves people, but you certainly have no idea even when you've edited it, and when you watch it, you're so close to it, it's hard to know how an audience will respond. It's been really beautiful to see the audience's response to it. It's been more than I ever would have anticipated and I think Mike would say the same. It's been a very good time.
IFC: You kind of exploded onto the scene earlier this year with "Another Earth" and "Sound of my Voice" coming out at Sundance. How have you stayed grounded?
BM: You know, it's an interesting question. I've really been working so much and I'm working on this movie Zal and I wrote called "The East," and Mike is actually here, he's directing some of these little vignettes in the film that he's directing, and so all three of us are sort of reunited, working together on this project of which has been awesome.
I think, I don't know. I think the fundamentals never change, is the problem and also a great thing, which is at the end of the day you're still just trying to get good at telling stories. And from an acting perspective, you're trying to get better at being a better custodian and vessel for them, and not being phony and being honest and not defaulting on cliché emotions but trying to figure out what's true or what actually happened. That never gets any easier. I think that's the thing I find daunting about acting is, I don't know what it's like with other professions, but usually I think there's like a learning curve in which like your job becomes easier for you, and I've never felt that with acting.
It astounds me that every day I go to work on 'The East' and it's almost like I've never worked before. You have no idea what will happen, what will come up. You're really tapping all of your subconscious, and there's something wildly liberating about it but also terrifying, and so it's awesome that the movies have been really well received and that we're getting a chance to make more movies but I think the challenge is always the same. Nobody gets too lost in any of their thinking about it, I think.
IFC: You mentioned how it never gets easier with acting, but do you think part of it is you keep pushing yourself with the scripts that you help write to see just what you can do?
BM: Oh my gosh, what a great thing to say. Wow. I think that's so true. I guess I'm usually attracted to the thing that terrifies me. That's one of the things that's cool about writing.
I think one of the things that happens with all actors, and certainly with young actresses, is that they sort of get put in a certain place, like there's only a certain type of story for the ingénue and usually it's like the romantic comedy ingénue or the love interest in an action movie but she's never the action hero.
There's something about writing that sort of I think lets you a little bit push yourself in the direction that you're more afraid to go and certainly in this movie, oh my gosh, it happens all over the place. I constantly feel like I'm biting off a lot more than I can possibly chew, but I love that feeling. I think that's why I'm so attracted to this work because I always feel out of my depth. So hopefully I'll keep putting myself there and seeing if I can attempt to rise to the occasion.
Are you interested to see what other types of projects Marling creates for herself in the future? Let us know in the comments section below or on Facebook and Twitter.