"The Muppets" music supervisor Bret McKenzie teams with Kermit to sing "Life's a Happy Song"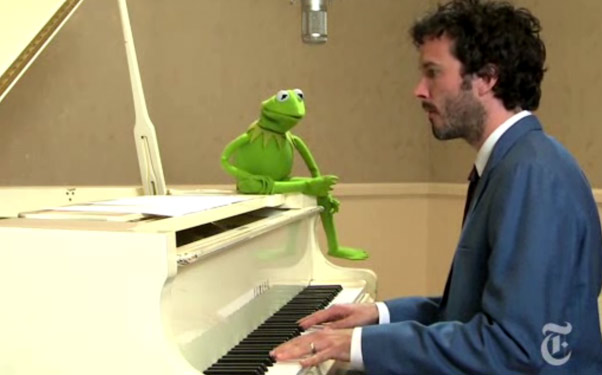 Posted by Brian Jacks on
Bret McKenzie is probably best known as one-half of the cult-fave music group "Flight of the Conchords," but his new gig has taken him behind the camera for one of Hollywood's most high-profile projects. As the music supervisor for "The Muppets," McKenzie is responsible for penning three of the film's major songs and contributing in other aspects as well.
One of those ballads is "Life's a Happy Song," a poppy tune performed in the beginning of the movie by Jason Segel, his puppet brother Walter, and Amy Adams. Their grand ensemble is the story's launching point, giving audiences a sense of the self-referential universe as dozens of extras swirl and vocalize around them.
When the The New York Times Magazine profiled McKenzie for this past weekend's edition, they managed to also get McKenzie performing an acoustic rendition of "Happy Song" with the main Muppet himself, Kermit the Frog. The version becomes somewhat free-flowing towards the end, but you're able to get a great sense of what makes the song so catchy and how it quickly establishes the film's mood.
Check out McKenzie and Kermit below, and then see a clip of it being used as the film's splashy intro. "The Muppets" hits theaters November 23.
Do you plan to see "The Muppets"? Let us know below or on Facebook or Twitter.