Brad Pitt says he's looking to retire in three years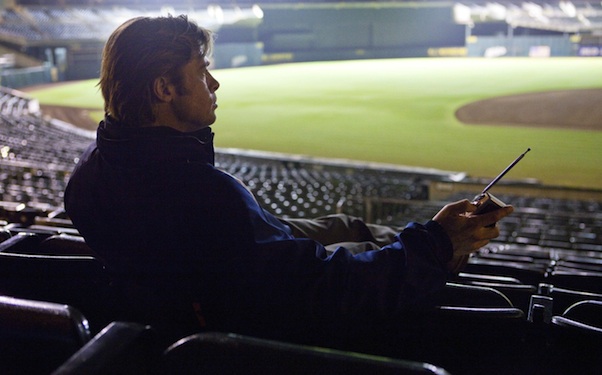 Posted by Matt Singer on
Three years. After that, you won't have Brad Pitt to kick around or anoint as the Sexiest Man Alive for an eighth time anymore.
Promoting "Moneyball" overseas, Pitt sat down with "60 Minutes Australia" for a lengthy interview. Near the end of the conversation, the interviewer asked how long Pitt would like to continue working as an actor. His response — and it was a quick, confident, I've-thought-about-this-before-you-asked it response, too — "Three years." And then after that? Here's what he said:
""Hell if I know. I'm really enjoying the producorial side; the development of stories, putting those pieces together, getting stories to the plate that might have had a tougher time otherwise."
Fueling retirement rumors? At 47? Can you tell the guy's made three movies with Steven Soderbergh?
Pitt's producorial credits in the last five years include "The Assassination of Jesse James by the Coward Robert Ford," "Kick-Ass," "The Tree of Life," and "Moneyball" — all unusual or outright uncommercial properties that may not have made it to the screen without his support. His suggestion that he'll quit acting and become a full-time producer arrives just before his partner, Angelina Jolie, releases her first film as writer/director, "In the Land of Blood and Honey." Clearly both have aspirations beyond hitting their marks and memorizing their lines.
As for Pitt, his preretirement slate includes "Cogan's Trade," an crime film written and directed by "Jesse James" director Andrew Dominik, and the highly anticipated adaptation of the zombie novel "World War Z." And then after that? Hell if I know.
UPDATE: At the Korean stop of his "Moneyball" press tour, Pitt clarified his remarks, saying "I wasn't putting an exact deadline on my expiration date (as an actor) but I just see it coming and I do have an interest in the producing side." Fueling retirement rumors then taking them back the next day? The guy really is a Soderbergh protégé!
Are you ready for Brad Pitt to retire? Tell us in the comments below or write to us on Facebook and Twitter.
[H/T Deadline]