Title of new Bond movie, "Skyfall" and casting of Javier Bardem as villain confirmed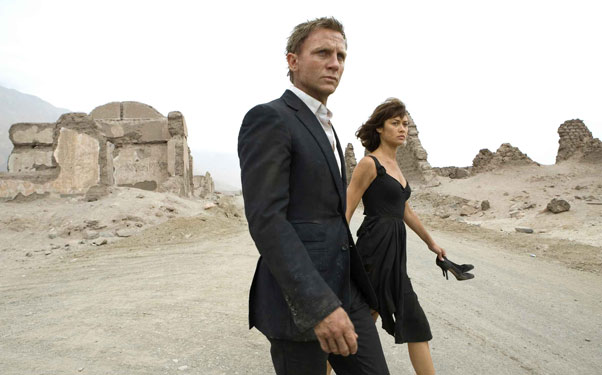 Posted by Aubrey Sitterson on
With the success of both "Casino Royale" and "The Quantum of Solace," there was never any real doubt that Daniel Craig would return to the screen for another James Bond movie, even during studio MGM's 2010 bankruptcy proceedings. Now, coming out of a press conference this morning, we have new details about the film, including the confirmation and rebuttal of several rumors, the identity of the movie's "Bond girl" and even the flick's title: "Skyfall."
Deadline picked up all the details, reminding us of an earlier rumor that stated the new film's budget had been significantly reduced, by as much as $100 million. Sam Mendes, the director of "Skyfall," refutes that claim, however, stating, "We're in the same budget range as the last film. We haven't had to change anything in the script. In fact, we keep adding things – everything is going to be just as it was." Another rumor Mendes knocked down was the idea that his Bond would be somewhat slower and lighter on the action than its predecessors, and even mentions that he'd potentially be up for returning to the franchise after "Skyfall."
On the casting end of things, Mendes confirmed that Javier Bardem will be playing the film's villain, but neglected to specify who exactly the baddie is. He also announced French television actress Bérénice Marlohe as the newest "Bond girl," named Severine. The cast also includes Ralph Fiennes, Naomie Harris and several others. There's still no word, however, on who will be singing the film's theme song, though persistent rumor and speculation continues to point to Adele.
As for what the movie is actually about, we still have precious few details, though Deadline asserts that in the film "Bond's loyalty to M is tested as her past comes back to haunt her; M16 comes under attack and Bond must track down and destroy the threat." We also know that filming will take place in England, Scotland, Istanbul and China. So, fingers crossed, maybe we can count on a thrilling, nail-biting high-stakes Mahjong game.
What do you think about the details for "Skyfall"? Does the name work for you? Tell us in the comments below or on Facebook or Twitter.