New "Avengers" banners show off the main eight characters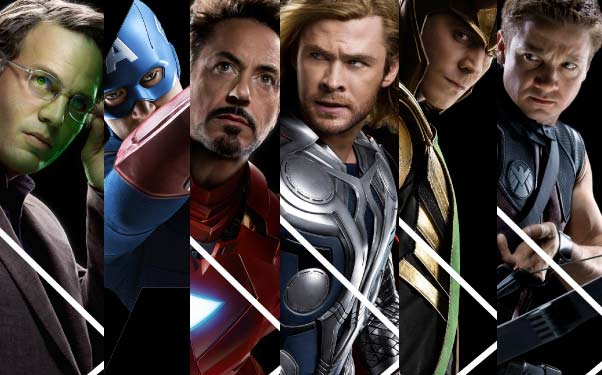 Posted by Terri Schwartz on
It's been more than a month since "The Avengers" trailer first hit the web, but Marvel doesn't want fans to forget the excitement that is in store for them on May 4 when the ensemble superhero flick hits theaters. To help appease the almost six month wait, the studio has released two new character banners for the film to showcase its eight most significant characters.
The first banner comes at us from Yahoo! Movies and features the four main Avengers in the film. Audiences have already been introduced to Iron Man (Robert Downey Jr.), Thor (Chris Hemsworth) and Captain America (Chris Evans), but Mark Ruffalo's Bruce Banner is still new. He did make his triumphant debut in the theatrical trailer, but we're greedy people and always want more. I like the hint of green on Ruffalo's face to imply the transformation into the Hulk, even though he's shown here in human form.
But it's the rest of the cast of characters that really add some color to "The Avengers." The second banner was posted on Moviefone and features Nick Fury (Samuel L. Jackson), Loki (Tom Hiddleston), Hawkeye (Jeremy Renner) and Black Widow (Scarlett Johansson). Again, these are all characters that fans have met before in the previous Marvel movies, but the prospect of having them all in the same place is still just as exciting. There's just something about that "Avengers" "A" superimposed over their images that gets us pumped up.
"The Avengers" follows the creation of S.H.I.E.L.D.'s Avengers initiative against the backdrop of Thor's evil brother Loki trying to destroy Earth. The film is written and directed by Joss Whedon.
Are you ready to "assemble" for this summer blockbuster?? Tell us in the comments below or on Facebook or Twitter.