Anton Yelchin on hitting the books for "Star Trek 2" and Benicio Del Toro casting rumors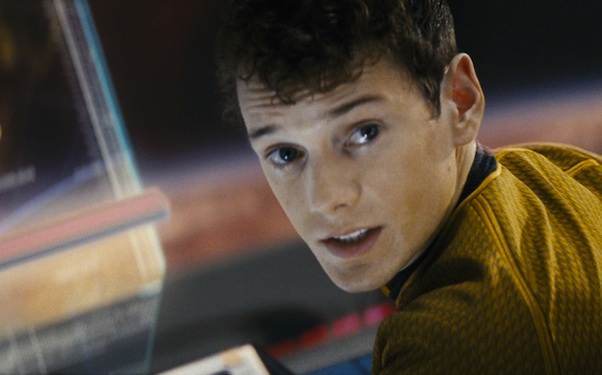 Posted by Matt Singer on
Do you want to know my deepest, darkest secret?
I've been to a "Star Trek" convention.
Back in middle school I was a full-on "Star Trek" nerd. I watched the shows, I read the novels, I bought the toys. God help me, I even owned a "Next Generation" costume. It was as red, the same color my cheeks get as I recount these details. I'm not proud of my Trekkie past, but after J.J. Abrams' outstanding 2009 franchise reboot, I was a lot less not proud. That movie was both a fantastic homage to the series' storied past and an impressive blueprint for a bright future. It made "Star Trek" cool.
When I got the chance to talk to actor Anton Yelchin about his beautiful new film "Like Crazy," I couldn't help myself. Talking to the guy who plays Abrams' version of Ensign Pavel Chekov, the USS Enterprise's Russian accented navigator brought out the lapsed Trekkie in me. Yelchin was nice enough to accommodate a few questions about Abrams' upcoming "Star Trek" sequel, currently scheduled to go into production in January of next year.
Unless my math is off, that's just two months away, but Yelchin told me he still doesn't know what he'll be doing in this movie (besides pronouncing v's like w's of course). "I've been told that at a certain point I will actually read a draft," Yelchin said. That's what happened last time: I went into J.J.'s office and I read a script, but I had to leave it there. So I'll probably read a draft and then in a couple weeks they'll send me, like, some top secret draft that I bring to set but it stays in the trailer and doesn't leave [laughs]. So at a certain point I will actually read the script before I go in to work. I don't just show up and get sides."
It sounds really challenging to prepare for a role without knowing exactly what you'll be doing or saying in it, but Yelchin assured me there's plenty of prep he can do without a script. "I'm going to go back and watch the old show and movies again," he said. "I'll dig out my old script and go through my notes on the character from that. And also, weirdly enough, I'll rewatch 'Star Trek' and watch my own performance to make sure basically I'm moving the same way. I'm sure there's things I've forgotten. I still have my 'Star Trek Encyclopedia' on my desk. I'm gonna whip that out and start reading up on things."
Reading up on things online is how Yelchin's been learning of the latest developments on the upcoming sequel. He didn't hear about the still unconfirmed rumor that Benicio Del Toro may play the film's villain until he saw it posted on the web. Weeks after that announcement, Yelchin still doesn't know whether Del Toro's officially on board or not. "I think I'll probably know when I get to work and he's either there or not," he joked, before adding that Del Toro would be an "amazing" choice for the part. "Just the thought of him being in the film is very exciting," he said.
One thing that will definitely be in "Star Trek 2" with Yelchin is his great, Walter Koenig-inspired sorta-Russian Chekov accent. Is it a hard accent to do? "It's a lot of fun to do. I don't know if it's hard or easy," Yelchin told me. While trying to find just the right voice for the character, the Russian-born, American-raised actor even tried having his grandfather read Chekov's lines for him for inspiration. "I recorded him [doing it], but having someone in their 80s who doesn't speak English try to say these pseudoscientific terms — within the first couple words, I was like 'This is not going to work,'" Yelchin recalled with a laugh.
"I think Walter Koenig's accent is so great," he continued. "The character he created is so great. He's such a joyous character. In one of my favorite 'Star Trek' episodes, all he does is spend the whole time macking on his girlfriend. That's literally all he does in the episode!"
If you're curious, that episode is "The Way to Eden" (at least I think it is; remember I'm a lapsed Trekkie). And if you're curious, no, Yelchin hasn't been to a "Star Trek" convention yet. Unlike, y'know, me. Look for the rest of my interview with Yelchin about the excellent "Like Crazy," which is currently in theaters, on Monday.
Would you want Benicio Del Toro to play the villain of "Star Trek 2?" Tell us in the comments below write to us on Facebook and Twitter.