Ang Lee wanted "Hulk" to look like "Tree of Life"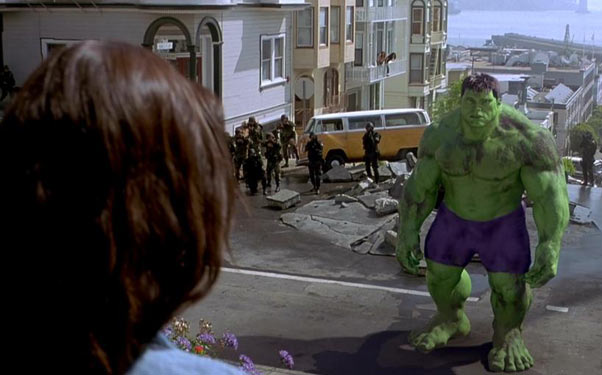 Posted by Terri Schwartz on
Ang Lee was not impressed with Terrence Malick's epic "The Tree of Life," though not for the reason you might think.
The "Brokeback Mountain" director chatted with Vulture after Monday's Gotham Awards and said that he's been so busy planning his new project, an adaptation of Yann Martel's "Life of Pi," that he has fallen behind watching the films released in 2011. The one flick he did recently watch was "The Tree of Life." Though Lee said "most of it blew me away," he added that portions of the film didn't "take my breath away" because he'd actually been planning to do the same thing in his experimental 2003 comic book adaptation, "Hulk."
"I see a lot of the elements I was thinking about in 'The Hulk.' Some I put in, some I didn't. The non-drama part of 'Tree of Life' was stuff I was thinking about when I was doing 'The Hulk.' So I've been there. That's why that part didn't take my breath away, because I'd been thinking about similar things. I like to be surprised," he said.
In fact, the ideas were so similar that Lee said he even scouted some of the same locations Malick used in "The Tree of Life," though he didn't end up using them. It certainly puts an interesting spin on what the final product of "Hulk" could have been. Somehow we doubt that Marvel would have been too pleased with such an existential take on their superhero universe, though.
Lee said all his focus is on "Life of Pi" right now as it's going to take a very long time to complete. The director has filmed a vast range of genres during his time behind the camera — from "Crouching Tiger, Hidden Dragon" to "Sense and Sensibility" to the aforementioned "Hulk" and "Brokeback Mountain" — and "Life of Pi" will again force him to shoot a mixture of live action and animation elements.
"Takes a long time to shoot, takes a long time to get it off the ground, takes a long time to write a script, scout, prep, and then it will take a year to finish the post-production, so it's a long project," Lee said.
Would you have wanted to see a more existential look at "Hulk"? Are you looking forward to "Life of Pi"? Tell us in the comments section below or on Facebook and Twitter.