Call-In Commentary: Watch the "American Reunion" trailer with writer-directors Jon Hurwitz and Hayden Schlossberg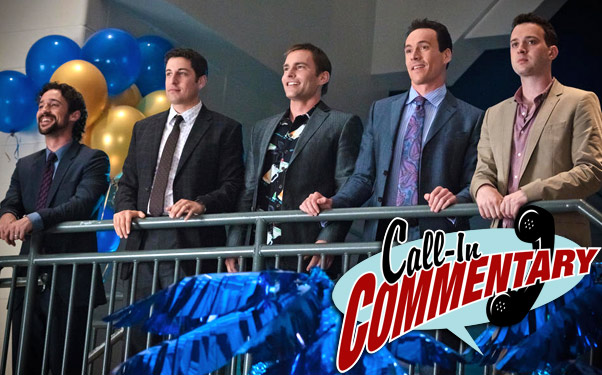 Posted by Brian Jacks on
In a sea of upcoming remakes, sequels and prequels, "American Reunion" has broken through them all. Sure it's technically a sequel to "American Pie," but it's more than that. It's a meta experiment about reuniting the entire original cast of a groundbreaking blockbuster for an in-movie high school reunion. The passage of years from the 1999 premiere is counted in real-time, with the characters having now entered their thirties. They have beards and kids and breast implants. But some things never change, and the film is based on the collision of those two identities.
For a breakdown of what's in store, we turned to Jon Hurwitz and Hayden Schlossberg, who along with creating "Harold & Kumar," are now the writers and directors of "American Reunion." Both of them participated in our "Call-In Commentary" series, where filmmakers provide narration to their movie trailers and so in the video below, hear their approach to the whole project, what's missing from the trailer and what we can look forward to. "American Reunion" arrives in theaters April 6, 2012.
video player loading
.
.
.
MORE CALL-IN COMMENTARIES:
– Watch "The Lie" trailer with director, co-writer and star Joshua Leonard
– "Janie Jones" trailer with director David M. Rosenthal
– "Trespass" trailer with director Joel Schumacher
– "The Human Centipede 2" trailer with director Tom Six