"The Amazing Spider-Man" set photos show the evolution of Peter Parker's costume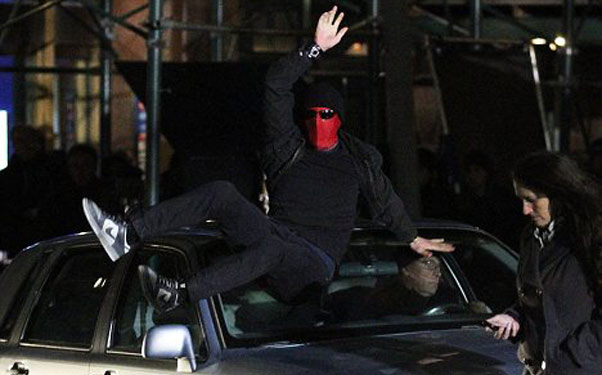 Posted by Terri Schwartz on
Superman used glasses. Bruce Wayne used a strange raspy voice. At least Peter Parker understands that the best way to keep his secret identity a secret is to go out in a full-fledged disguise. But the latest "The Amazing Spider-Man" set pictures show that Petey might have gone a bit too over-the-top with his camouflage.
The latest images — courtesy of The Daily Mail — show leading man Andrew Garfield swinging around New York City on the set of "The Amazing Spider-Man." In some of the photos, he is wearing an all-black outfit with a black beanie and tinted shades in addition to his red Spider-Man suit underneath. Didn't his mother ever tell him that one superhero costume is enough?
The debate over whether the mechanical web shooters in "The Amazing Spider-Man" are a good or bad idea will continue to rage on with the release of these new pictures. Spidey can be seen wearing them around his wrists in these shots, even if he isn't actually using them. My opinion is that we all hold off judgment until we see them in action and find out how they fit into the story director Marc Webb is using, but a lot of fans are unhappy with how they look.
Also released are photos of Rhys Ifans as Dr. Connors before his transformation into the Lizard. And, if our guess is correct, the one shot of Ifans looking at his hand actually is the scene where the reptilian DNA begins to kick in to Connors' system and starts to transform him into "The Amazing Spider-Man's" villain.
"The Amazing Spider-Man" is set to hit theaters on July 3. It also stars Emma Stone, Denis Leary, Martin Sheen and Sally Field.
What do you think of these latest set photos? Tell us in the comments section below or on Facebook and Twitter.