Is this early concept art for the "Amazing Spider-Man" villain The Lizard?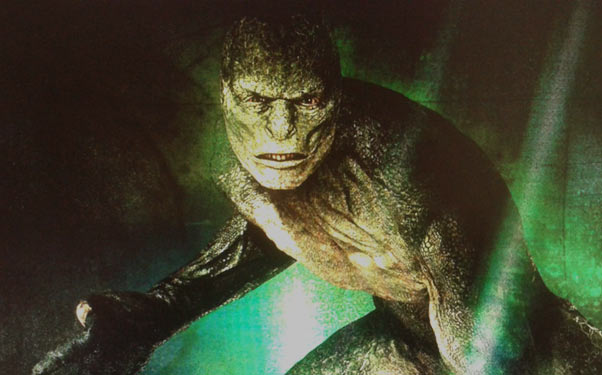 Posted by Rick Marshall on
Yesterday we got our first look at The Lizard, Spidey's nemesis in "The Amazing Spider-Man," via a PEZ dispenser. Today, the indirect peeks at the film's reptilian villain continue with an unofficial image that may or may not be early concept art for the character.
Posted over at Russian website SpiderMedia.ru, the image depicts a creature similar to the one seen on yesterday's officially licensed PEZ dispenser and — according to those who saw it — the "Amazing Spider-Man" footage shown at Comic-Con. However, as SuperHeroHype points out, the alleged concept art features a much slimmer version of the character than the massive beast that appeared in the Comic-Con clip.
Still, that difference could just mean that this is part of the early design for the scaly villain that Dr. Curt Connors (played by Rhys Ifans) is transformed into during the film.
Or it could just be fabricated from existing imagery — which is entirely possible in our Photoshop-friendly world.
With "The Amazing Spider-Man" hitting theaters July 3, there's no telling when the general public will finally get its first official look at The Lizard, but here's hoping we get an official look at the webslinger's latest enemy to hit the big screen soon.
What do you think of The Lizard as depicted in this image (which may or may not be official)? Chime in below or on Facebook or Twitter.