ADAPT THIS: It's Bigfoot vs. werewolves in Steve Niles' "Savage"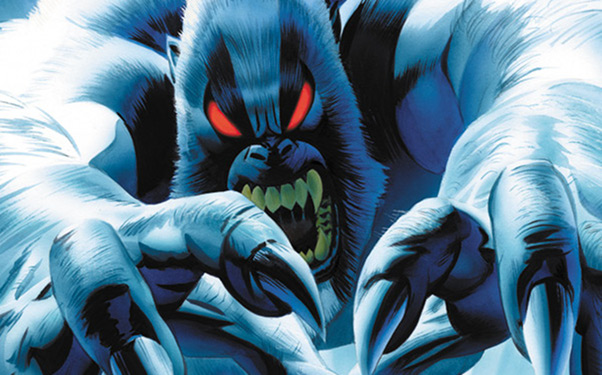 Posted by Rick Marshall on
With Hollywood turning more of its attention to the world of graphic novels for inspiration, I'll cast the spotlight on a new comic book each week that has the potential to pack a theater or keep you glued to your television screens. At the end of some "Adapt This" columns, you'll also find thoughts from the industry's top comic creators about the books they'd like to see make the jump from page to screen.
---
This Week's Book: Savage by Steve Niles, Jeff Frank, Dan Wickline, and Mike Mayhew
The Premise: It's Bigfoot vs. a pack of werewolves, with a serial killer and some extra supernatural monsters thrown into the mix to make it the complete package for horror fans.
The Pitch: Sadly, I'm a week late in suggesting Savage for adaptation, as it would've made a great recommendation for the week of Halloween. Still, Steve Niles' monster-packed tale would make a great, blood-soaked creature feature no matter what time of year it comes together, and it's actually a bit surprising that we haven't seen a "Savage" movie already.
The story follows a mysterious (and potentially psychotic) killer as he hunts down supernatural creatures, and looks for someone to inherit his "special" abilities. Without giving too much away, Savage manages to provide a plausible matchup between one of horror's most popular monsters, werewolves, and one that hasn't had quite the same success on the big screen (or in literature), Bigfoot.
Projects that pit well-known monsters or pop-culture archetypes against each other generally develop a lot of early buzz due to the novelty of the matchup, but the final product usually falls short of expectations. Franchises like the "True Blood" television series and "Underworld" movies have found success in mixing all manner of supernatural creatures, and it's the storytelling that often means the difference between a laughably bad film and a compelling, legitimately scary story.
Savage is a co-creation of Jeff Frank, Dan Wickline, and Steve Niles, but it's easy to see Niles' fingerprints all over the four-issue miniseries that introduces the characters and the world they inhabit. As far as storytellers go, Niles has proven himself in the horror genre with 30 Days of Night, Freaks of the Heartland, Wake the Dead, Criminal Macabre, and a number of other projects that have been snatched up by movie studios or television networks (as well as his work on the video game F.E.A.R. 3). Basically, there's no one more capable of making the "Bigfoot vs. Werewolves" premise something to frighten audiences instead of making them laugh.
As far as effects go, a "Savage" adaptation would likely require a similar level of digital effects as the aforementioned "Underworld" films. While the transformation scenes would likely be a mix of both makeup and computer-generated effects, brawls between Bigfoot and the werewolves would rely heavily on the sort of technology that made the "werewolf vs. vampire" fights look so darn good in the "Underworld" movies and many of the other recent projects pitting alien or supernatural creatures against each other.
It's also worth pointing out that, unlike previous "Adapt This" selections, an adaptation of Savage isn't the sort of project that relies on A-list actors to drive it forward. Outside of the story's two or three main characters – most of which spend half the film as hairy monsters – the supporting cast could be summed up as either monster fodder or characters that keep the story grounded in the real world. Find a few talented actors who could sell their monstrous alter egos, a horror-friendly director, and a great effects team, and the pieces are all there for a great "Savage" movie.
The Closing Argument: It's a story about Bigfoot fighting werewolves and other supernatural creatures, co-written by one of the best horror authors in the comics world. Honestly, that's probably all that needs to be said about Savage to prove that it's an awesome action-horror film waiting to happen.
Heck, we've seen countless "vs." variations involving vampires, werewolves, zombies, and robots – how about giving Bigfoot a try?
---
Would "Savage" make a good movie? Chime in below or on Facebook or Twitter.