Aasif Mandvi says his doctor role in Sacha Baron Cohen's "The Dictator" "makes no sense at all"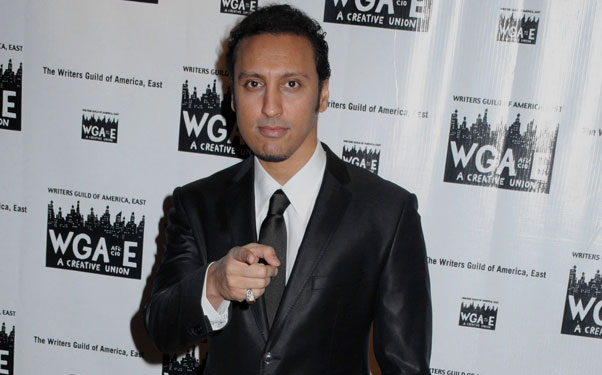 Posted by IFC on
Aasif Mandvi has seen his share of democracy-crushing tyrants in his role as the "Middle East Correspondent" for Comedy Central's "The Daily Show," but he'll soon be appearing alongside one for Sacha Baron Cohen's upcoming dark comedy, "The Dictator."
"I played a doctor, which is a huge stretch for me as an Asian-American," Mandvi joked to IFC. "I played a doctor, and most of what I say makes no sense at all – I'll just say that."
"The Dictator" is reportedly inspired by Saddam Hussein's novel "Zabibah and the King," and follows an oppressive autocrat who risks his life to keep his citizens firmly under his loving hand. Directed by "Borat" and "Brüno" helmer Larry Charles, its cast includes Ben Kingsley and Anna Faris among other actors, indicating that the film will be a more straightforward fictional film than Cohen's "Borat" and Bruno," which were shot as mockumentaries.
Mandvi couldn't confirm that the film was different in execution than its predecessors, but indicated that it had a script for the actors to work from. "I honestly can't speak to that, because I wasn't around it long enough. I believe it's more scripted, but I don't really know that much about it."
Related: Aasif Mandvi talks about acting, comedy and Middle Eastern Corresponding
While Mandvi isn't sure whether or not his segment will end up in the film, he revealed that he's just one of the performers who plays a small role in the film, or shows up in a cameo. "[My part] is literally very, very tiny," he said. "I mean, I think there's a lot of little, small cameos in that film, so if I don't end up on the cutting room floor, I will be in that movie for about seven seconds."
"The Dictator" is scheduled for release on May 11, 2012.
Are you looking forward to Sasha Baron Cohen's "The Dictator"? Let us know below or on Facebook or Twitter.