Aasif Mandvi talks about acting, comedy and Middle Eastern Corresponding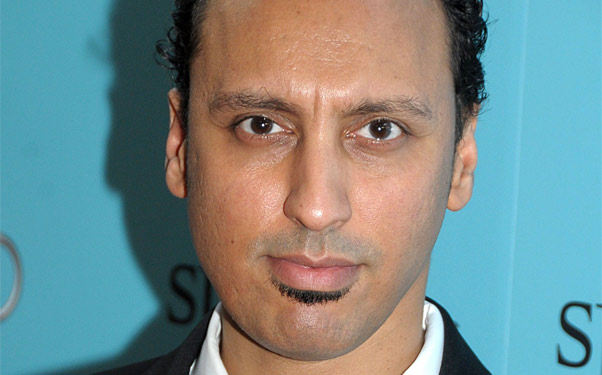 Posted by IFC on
For more than four years, Aasif Mandvi has been a staple of Comedy Central's "The Daily Show" as its "Senior Middle East Correspondent," but if you ask him, he'll tell you that he doesn't think of himself as a comedian. Since his adolescent years, Mandvi has worked in a wide variety of theatrical disciplines, with comedy being just one of his many areas of accomplishments; as a film actor, he previously played Peter Parker's rightfully exasperated boss in "Spider-Man 2," an indefatigably upbeat physician in "Ghost Town," a villainous general in "The Last Airbender," and an ambitious chef in "Today's Special." And he continues to explore numerous opportunities on TV and in film, as he's working on his upcoming roles in films such as Sacha Baron Cohen's "The Dictator."
IFC spoke with Mandvi recently to talk about how he ended up on "The Daily Show," and how he looks at his hugely successful comedic work in the overall context of his acting career. In addition to detailing his origins as an actor and comedian, he talked about the challenges and opportunities of being a performer of color, and offered some insights into the creative process that made him one of the most celebrated contributors on "The Daily Show."
You've done a variety of work as an actor and comedian, but how did you get started in comedy in particular?
I think it just sort of happened. I never consciously got into comedy. It was sort of one of those things where I was a theater student, I was acting, I was doing comedy, I was doing dramatic stuff, so it's been something that I've always done and enjoyed doing and had an instinct to be relatively good at. But I don't really think of myself just as a comedian; I think of myself as an actor, and comedy is just a part of that. I think more people think of me as a comedian now that I've been on "The Daily Show" for five years, so you get sort of labeled with this kind of "well, he's a comedian," when the reality is that most of the work in my career that I've done, I would say it's about 50-50 in terms of that and dramatic stuff. So I've really always been involved in comedy, since school.
Did you undertake any formal training for comedy that differentiated it from the other acting work you've done? And do you see it as a different discipline than dramatic acting?
I went to school as an actor, but I think most of my training once I got out of school was sort of on-the-job, and I did do like improv comedy and street theater and stuff like that. But I don't think of it as a different thing, really. I guess some people do, I don't know, but for me it's all part and parcel of the same skill set. So I feel like I don't really separate my dramatic work from my comedic work in that way. It's just a different way to approach a character, or anything – it's just a different angle.
In that case, was "The Daily Show" sort of just another audition you went on?
Like I said, I had been doing comedic stuff as well, and I'd done a little stand-up comedy, and I was in a sketch comedy group. But "The Daily Show" came as an audition; they were literally looking for a Middle Eastern correspondent, originally for a very specific piece that they had that they had written and they didn't have a correspondent. So they actually held auditions just as a one-off for this one piece, so I came in originally to audition for this one segment, got it, did it that night, and Jon Stewart was actually the person who I guess sort of fell in love with me and decided "I'm going to bring him back, because I like him." So he just kept bringing me back and having me do more and more on-air chats with him on the show. And then after about six months of that, they offered me a full-time job. But I think at the time I auditioned for "The Daily Show," they were not necessarily looking for someone who came from the traditional comedy background, who came from stand-up or stuff like that. They wanted an actor – a comedic actor.
Why do you think that is?
I think because of the kind of role that I was originally hired to play. It was very character-driven, sort of like they didn't want me to be too broad. They wanted me to be very understated and grounded, and I think that's why they were looking for someone who had more acting experience.
How do you approach each segment, since you're using your own name, but you're adopting an on-air persona?
I play a character who has my name. he's a lot smarter than me, he's a lot better-looking than I am, and he travels around with a team of comedy writers. But the thing is I kind of feel like he is an extension – the more you do it, the more yourself and the character start to find a common ground. And you have to find a unique voice within that character that I feel like is somewhat of a persona, you know?
Are there any comedians from whom you took inspiration, or who might even have taught you?
Well, specifically for "The Daily Show," I would say that there's a long history of terrific performers that have been on that show, like Carell, Colbert, Ed Helms, and so I think there's a particular style and a particular tone that you fall into on that show that has kind of preceded us. And then you find your own niche, your own version of that, and that is really something that gets developed over time, and the more you do it, the more you sort of perfect that or find the nuances within your own particular character. And I guess in terms of other comedic stuff that I've done, there are terrific comedic actors out there that I grew up watching. I gravitate towards people and the work of people who do both, because I think that definitely brings such a richness to that. All of the actors that I've known and I came up in school with and worked with over the years, I feel like have been known through theater and are now doing comedy and they're on TV shows and stuff, you know, and I think part of what makes them as funny as they are is the fact that they're grounded in a broader base than just comedy.
How would you characterize the style of the segments you create on "The Daily Show?"
I definitely think there's a certain approach to "The Daily Show" – we're sort of high-status fools in a way. And I feel that way about my character and I think the character that Colbert plays and a lot of us on the show, I think it's that kind of persona. In terms of the interviews and the style, I think it's something that you fall into, the structure and mechanics of it. But in terms of the character, it is that sort of 'the guy who knows everything, but actually knows nothing.'
You mention mechanics – how refined or careful are you about language or delivery to make things funny, and how purely intuitive is that?
Well, I think a lot of it is intuition, and a lot of it is just comic timing – you have to have an innate understanding of comic timing in order to pull off those gags. And also in the field pieces, sometimes we can ask a question several different ways, and experiment with the funniest way to do it – they're a little looser in terms of it isn't a more long-form thing. But I think a lot of it is just intuiting the moment. And there's a great quote by Lucille Ball, and she said, "I'm not funny, I'm just brave," and that's what it is in terms of "The Daily Show" – you just have to be brave. You just have to be willing to go there, and if there's a moment in your mind where you're like, "I'm going to try this," and sometimes it doesn't work, sometimes it just doesn't play, but it's as much about being courageous and brave in that moment comedically. Because if you think about being in that situation, if you start censoring yourself or holding onto yourself, or trying to find what is exactly the best word, if you become that self-conscious about it, then you will lose the spontaneity and the comedy and the sort of instinct of it.
In the field segments, how often are you actually asking all of the questions that you do, and how much does editing play a part in enhancing the shock value of some of the interviews?
We try to be as authentic as we can be in that people will say exactly what they say. The skill set is probably that we go out there when we go to these interviews and we have a series of questions, and we know what kind of responses we are hoping for. So we have questions we already are prepared to ask, and sort of follow-up questions, and you pull out these scenarios in your mind about what can happen and jokes and stuff that we can do. So we go out there as prepared as we can be for these interviews, and then once we're actually in the free fall of the interview, then anything can happen – and that's when the rubber hits the road for the correspondent. Because that's when you have to really be in the moment, and find the funny, find the back and forth, because if it looks manufactured then it's not good. So as little as we can do that, we do that.
How much do you feel like your ethnicity plays a part in your comedy, and how much do you want it to?
I realized a long time ago in this business that I'm never going to be a white guy (laughs). For a long time, I thought I would be, and I thought I could graduate to being a white guy, but the reality is that I'm brown. And I think I got hired on "The Daily Show" for two reasons, A, that I was ethnic, and B, that I was good, hopefully, in that position that they wanted me in. But it definitely helped that I was the right ethnicity for the role, so I feel like we've definitely exploited that, but there are also things that I have done that have had nothing at all to do with my ethnicity. But I actually don't mind, because I don't mind using my ethnicity, because I feel like it has actually been one of those things in my career that has challenged my career, but it's also something that has enhanced it, and I think I get to do pieces and sit on that fence between cultures and have a very unique perspective and a unique voice within the culture, especially as it is today that I don't think I would have if I was Caucasian. So I actually like it; I don't want to do roles that minimize or stereotype or reduce the ethnicity down to some kind of accented sound byte that is funny; that feels to me like the wrong exploitation of the ethnicity. But the right way exploit it is to actually expand it in the way we do it on "The Daily Show,"which is, here is a guy who is brown and comes from a different perspective sort of on the fence between cultures and I think actually, I don't mean to be arrogant, but I feel like "The Daily Show" has benefited from having that ethnicity and that color on the show. I don't mean they benefited like, "it's now a better show." It's like they've gotten to do stuff and explore things with me that they wouldn't get to do with a Caucasian correspondent.
Where do you draw the line between playing an ethnic character who is interesting and funny, and one that you think is stereotypical or offensive? I remember not being sure how I felt about Ken Jeong's character in "The Hangover," but I also realize it isn't up to me to decide if that's problematic or not.
I draw the line like, I would never take off my clothes and show my tiny, tiny penis. So I won't do that (laughs). For a laugh – I have too big an ego for that. But I think it's a case-by-case scenario; it is one of those things where you read something if you're doing a TV thing or a film, and if it feels like it's crossing a line and it feels like, "uh, I'm not so sure about that," you hope that your instincts about that stuff and your red flags show up. There have been times in my career when I have sort of said, this feels to me that it is unnecessary, or it goes beyond the line for me of what I feel comfortable with. And usually it's a conversation – and sometimes you win that conversation and sometimes you don't, and then you have to make a decision. I mean, I've definitely felt like all of us, and what I mean is all South Asian, Middle Eastern, even Asian comics and comedians or actors have at some point had to compromise that sort of line in order to get work and to do things to build a career. But then you get to a point where you're like, okay, now I don't want to compromise any more.
Having done comedy on "The Daily Show,"have you made an effort to take on different challenges elsewhere to demonstrate your other talents?
Well, the thing is that I have gotten to do other stuff while I've been on "The Daily Show," so it's been a really sweet deal in the sense that Jon has let me go off and let me do a movie called "The Last Airbender" a couple of years ago where I played the villain, which is not something you would necessarily associate with somebody who's a comedian. I've gotten to do other stuff where I get to stretch a little bit. But I enjoy doing comedy, and I'm getting a lot of comedy stuff coming my way now because of "The Daily Show," and I certainly enjoy it. I'm developing a show with CBS right now, and that's a half-hour comedy, but I definitely feel like there's other stuff going on, and to me it's really more about is it an interesting role – is this something that I'm interested in doing? So I don't really look at it like, oh, I want to do comedy, or more comedy, or whatever, it's just about what I find to be interesting.
What's your favorite Aasif Mandvi performance? Tell us in the comments below or on Facebook or Twitter.