The 10 most groundbreaking "Saturday Night Live" stars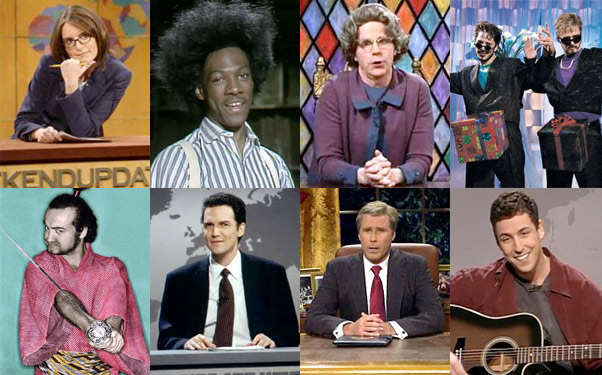 Posted by IFC on
"Saturday Night Live." It's a comedy franchise unparalleled, launching the careers of dozens of legends of the industry. As it heads into its 36th year, there are so many stars of this show that have become comedy staples and heroes to comics everywhere that it's hard to contain them all in a list. Stalwart geniuses like Dan Aykroyd, Phil Hartman, Jan Hooks and many more have their esteemed place among the beloved, reliable and versatile cast members, but here's a quick list focusing on the most innovative talents in the show's history – the people who changed how things were done.
---
We should really put the entire original Not Ready For Prime Time Players on this list (plus Bill Murray, who replaced Chevy Chase after the first year) for starting it all, but that would crowd everybody out. So we'll go with Belushi, star of the first ever sketch, who grew into a primal force of nature and a whirlwind of creativity alongside Dan Aykroyd, and who also set the precedent of SNL stars dying young. Just think about the things he did. The Blues Brothers would not be possible today. Could any two other cast members ever go rock out on the road and perform blues songs earnestly with barely a hint of winking comic irony? That's how strong his presence alone could be.
---
People tend to forget about the early 80s SNL era, but it sported such notable names as Billy Crystal and Martin Short, and brought us the revelation that was Murphy. A talented mimic, he balanced his street-smart sensibility (evidenced by his going undercover as a white man) with a love of getting completely goofy (he's Gumby, dammit!) and his high energy brought a really different feel to the show. Murphy is likely the main reason SNL survived the departure of the "Golden Age" original cast members and made it to its late-80s, early-90s "Silver Age," so to speak.
---
Here's the amazing thing about SNL's most renowned impressionist – he didn't really impersonate people, at least not in the chameleon-like way guys like Darrell Hammond would later. Instead, he dove into their sound and mannerisms, picked up a few things and cranked those up to 11, making everybody else's impressions just an inferior version of his. He turned George H.W. Bush and Ross Perot into a series of nasal noises and it worked. Seriously, he got the actual President Bush to say "Nah gah dah." Carvey was a character factory and a catchphrase machine, and he really spearheaded the SNL Silver Age.
---
4. Dennis Miller (1985 – 1991)
Say what you will about his post-SNL career, but Miller put his signature on the show every night he did Weekend Update. What used to be a straight-up parody of news shows transitioned (with the help of early-80s anchor Brad Hall) into the haven for cutting-edge comic voices who were not really the kind of people that belonged in sketches. With dry-wit commentators like Al Franken and A. Whitney Brown doing guest spots, Miller's endless sarcasm about the week's top stories and his deeply stylized delivery gave SNL a place where the writers could put the bombastic characters aside for several minutes a night and just speak their minds between the jokes. Not that Miller wasn't a bombastic character in his own right – check out Carvey's brilliant impression of him for proof of that.
---
Sandler's freshman class came in at just the right time to stretch out that Silver Age a few more years, and you know the rest. That twitchy little persona vascillated from quiet nerd to loud and absurd, never afraid to completely humiliate himself in the stupidest of ways… and then he'd pull out an acoustic guitar and singing dorky-sweet holiday songs. His egghead (not intellectual egghead, but his head is actually shaped like an egg) sensibility was all over the show in the early 90s, and his singular popularity really cemented the show's transition from the edgy underdog into the mainstream mainstay.