Ben Stiller's Zoolander returns for "Saturday Night Live"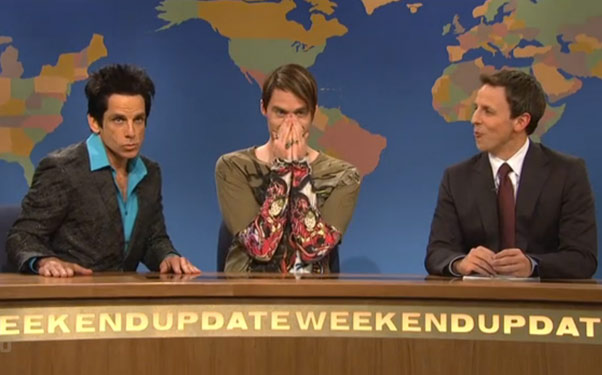 Posted by Terri Schwartz on
This week's "Saturday Night" Live featured the triumphant return of Bill Hader's hilarious character Stefon during Weekend Update, and he brought along one very special extra guest. If you've been keeping up with "SNL" at all over the past couple years, you'll know that Stefon — a New York City "travel consultant" with a twisted idea of what tourists will consider a good time — is arguably the best character on the show. He made his first appearance of the season on Saturday, and had with him a "new friend." Here's a hint: he's a New York character made famous by that episode's host, Ben Stiller.
After suggesting that NYC tourists check out the club Mhmm (here you'll find Kate Moss that Pakistani family that always cuts the line at Universal Studios at this active crime scene) and explaining what a human fire extinguisher is ("it's that thing of when a thin midget paints himself red and then chews Alka Seltzer until foam shoots out his mouth"), Stefon announced that he was going to be having a very special Halloween party featuring his good friend, Derek Zoolander.
Stiller then rolled out on stage in full Zoolander get-up, showing off his best Blue Steel. It turns out Zoolander is hosting a hot VIP Halloween party in the upcoming neighborhood SoWoHoNoBoHeWo (south of West Houston, below lower Hoboken, aka the center of the Hudson River). And don't think it's just to fashion his big comeback. Zoolander put together the party to support his newest charity, "The Derek Zoolander Foundation For Fat Kids Who Are Fat But Not In A Cute Way Like That Kid On 'Modern Family.'" He also took the time to show off his newest look, Cold Coffee.
The sketch was likely done just to make use of Stiller's colorful character catalog, but it's hard to ignore the fact that there is a "Zoolander" sequel in the works. Star Owen Wilson recently shared that the script is written, though he didn't have any news on when it will go in front of the camera. If the "SNL" sketch was a way to hype the upcoming sequel of the cult 2001 comedy, then it was a smart promotional tool, though it did show that Zoolander has not gotten any brighter over the past decade.
Did you find the "SNL" skit funny? Are you looking forward to "Zoolander 2"? Tell us in the comments section below or on Facebook and Twitter.