"With Great Power: The Stan Lee Story," reviewed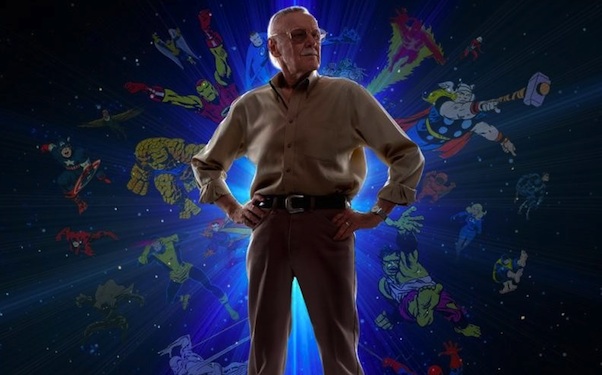 Posted by Matt Singer on
Reviewed at the New Orleans Film Festival.
What Stan Lee's comics lacked in subtlety, they made up for in sheer exuberance. The same could be said for the new documentary about Lee's life, "With Great Power: The Stan Lee Story," which shares its subject's gregarious personality and quickness to dismiss controversy. Hardships are addressed but never permitted to dwell in our minds long enough to detract from the bouncy, colorful ride.
Though there are dozens of other interview subjects, from historians to contemporaries to adoring fans (including Paris Hilton, of all people), Lee's first person recollections provide the spine of the film. If the origins of Spider-Man, Iron Man, and the Hulk sound familiar after innumerable repetitions on DVD supplements, at least their presentation looks fresh and vibrant, thanks to beautifully animated renderings of classic Marvel artwork by Jack Kirby, Steve Ditko, and more. The most interesting material is the less well-known stuff; Lee's wartime recollections and his adorably feisty relationship with his longtime wife Joan, who talks like a character from a Howard Hawks screwball comedy. Joan brags that we have her to thank for all of Lee's creations; she liked to spend Stan's money, which meant Stan had to keep dreaming up exciting new characters to keep the creditors at bay. On behalf of comics nerds everywhere, Joan: thank you. Someone should give you and your husband a reality show where you bicker about your finances and occasionally dance to swing music.
Made in association with Lee's production company POW! Entertainment, "With Great Power," is not exactly a hard-hitting expose. In making their film, directors Terry Dougas, Nikki Frakes, and Will Hess appear to have sacrificed depth for access. Lee's voice permeates every frame, but it's the same voice we know as the narrator of cartoons or the goofball who loves to cameo in Marvel movies; if there's a guy beneath that exterior, he's nowhere to be found here. His frayed relationship with Kirby is acknowledged and quickly blamed on an errant newspaper article and the worst details of his disastrous entrance into the dot com boom, Stan Lee Media, are covered in a single title card. The frustrating lack of information on less savory topics feels worthy of a No-Prize, but it also suggests something about the rose-colored lenses Lee sees the world through. I guess that's why he's always wearing those sunglasses.
So a bit less hagiography would have been nice, and the chronology of events is occasionally wonky (for example, Lee appears to create the Marvel fan club, the MMMS, before he invents the Fantastic Four). But True Believers like myself will be entertained by eighty minutes of gorgeous art and witty anecdotes. The film doesn't have great power, but maybe it wasn't its responsibility to do so.
"With Great Power: The Stan Lee Story," is playing film festivals around the country and currently seeking domestic distribution. If you see it, let us know what you think. Tell us in the comments below or on Facebook and Twitter.