Call-In Commentary: Watch the "Trespass" trailer with director Joel Schumacher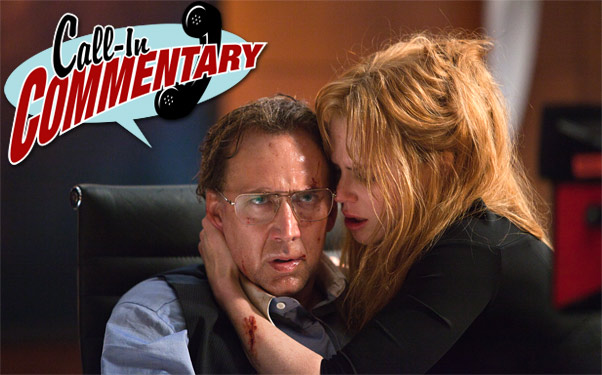 Posted by Brian Jacks on
As famed director Joel Schumacher puts it, his new film "Trespass" is ostensibly about the "haves" versus the "have nots," but only on its face. In the movie, Nicolas Cage and Nicole Kidman live a wealthy existence in an exclusive gated community. Everything is seemingly perfect: Cage is wrapped up in his business and Kidman is fascinated by the sexy new handy man (Cam Gigandet). But things start to unravel once "Animal Kingdom" star Ben Mendelsohn launches an armed home invasion of their mansion, and the film descends into betrayal, deception and other salacious labels.
Schumacher has delivered thirty years worth of memorable films, among them "St. Elmo's Fire," "The Lost Boys," "Falling Down" and "Tigerland," so it was a thrill for him to participate in our Call-In Commentary series, where directors provide narration for their movie trailers. In the video below, hear the "Trespass" filmmaker discuss Nicole's predilection for bare feet, and why everything is not what it seems. "Trespass" is currently in theaters and is now available on VOD, with a DVD and Blu-ray release date of November 1st.
video player loading
.
.
.
LATEST CALL-IN COMMENTARIES:
– "Fireflies in the Garden" trailer with director Dennis Lee
– "The Human Centipede 2" trailer with director Tom Six
– "Dirty Girl" trailer with director Abe Sylvia
– "Real Steel" trailer with director Shawn Levy