"Top Gun 2" gains "X-Men: First Class" screenwriters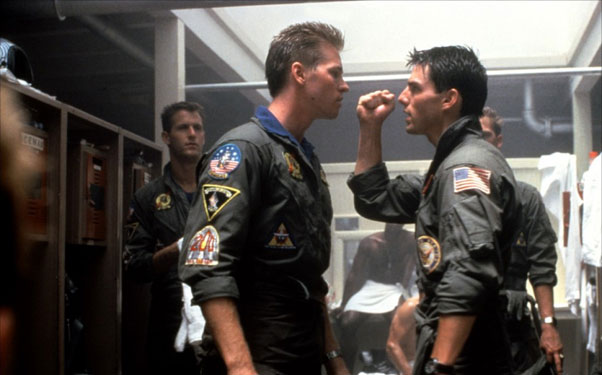 Posted by Terri Schwartz on
Here's some bad news if you were hoping that Tony Scott's planned "re-thinking" of "Top Gun" was going to fall by the wayside. Variety has the news that Paramount has hired Ashley Miller and Zack Stentz to write the untitled follow-up to 1986's hit Tom Cruise flick. The writing duo are responsible for one of the drafts of "X-Men: First Class" and "Thor." They also have worked together on TV series' "Fringe," "Terminator: The Sarah Connor Chronicles" and "Andromeda."
Not much is known about the upcoming movie, except that it could have a role for Tom Cruise. From the way Scott described his premise last year, it seems as though Miller and Stentz might be starting from scratch with the "Top Gun" concept and placing it in a world 25 years later where technologies are very different.
"It's not even a reinvention, it's not even a sequel. It's a re-thinking," Scott told MTV Radio about "Top Gun 2." "What inspired me is that the world today is great, it's so different from the world we touched originally. It's really run by guys sitting in Nevada on computers playing war games. So it's a mixture of that, and it's the end of the generation of fighter pilots. Not in a complete end to the generation, because these guys they go up in F-35s and they carry 10 drones with them. [But] it's a very different movie."
In addition to another "Top Gun" zooming into theaters near you in the next few years, there are also plans to return the 1986 hit to the big screen — with an added dimension. Legend 3D announced earlier this month that they will be performing the 3D conversion for Paramount in anticipation for its theatrical re-release. No word yet on when "Top Gun 3D" will be hitting theaters.
Do you think Scott's re-thinking of "Top Gun" is a good idea, or do you wish he'd leave well-enough alone? Let us know in the comments section below or on Facebook and Twitter.