The top 10 worst movie threats faced by Texas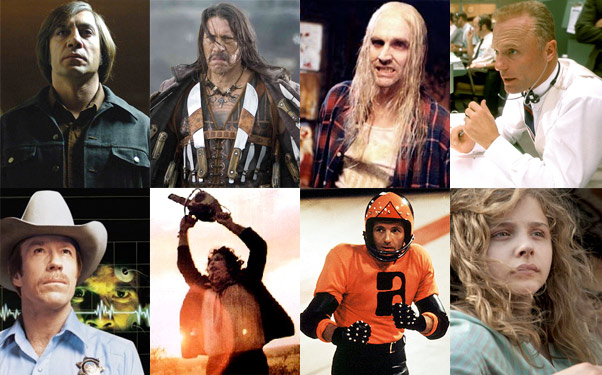 Posted by IFC on
Movies haven't always been kind to Texas. "Pee-wee's Big Adventure" and "The Best Little Whorehouse in Texas" both showcased the warmhearted souls and hospitality that the Lone Star State is known for. Horror filmdom and Quentin Tarantino, however, almost as a rule tend to focus on the state's sinister side.
"Texas Killing Fields" — now in theaters — joins that tradition of fright and lawlessness this year, and it is no accident that the events of director Ami Canaan Mann's tale ended up being set in the rural bayous of Texas City. Despite the horrible series of killings that takes place there, the characters in the movie get off rather easy, considering everything that Texas has been through.
Here are ten of the worst things that filmmakers have thrown at Texans.
---
10. The Apollo 13 lunar mission, "Apollo 13" (1995)
Spoiler alert: Everything worked out in the end. Even if it hadn't, though, Mission Control in Houston has a rich legacy of high-stakes, high-tech drama. Ron Howard's direction and Ed Harris and Kathleen Quinlan's Oscar-nominated performances just made the material more interesting. You'll note that all of the immediate physical danger took place outside of Texas' borders, but "Apollo 13" cut to the heart of the tension experienced by NASA's people on the ground.
---
9. The Life of George W. Bush, "W." (2008)
Actor Josh Brolin and director Oliver Stone painted a painful picture of President George W. Bush in this acidic comedy that subjected the former Texas governor to an unflattering depiction in the tradition of John Travolta's thinly-veiled poke at President Bill Clinton in 1998's "Primary Colors." Stone's wince-inducing ride through Bush's life can make you feel like Bush and Texas alike survived each other thanks to a great deal of luck.
---
8. Bodies in the bayou, "Texas Killing Fields" (2011)
Chloë Moretz plays a girl in danger in a small Texas town where a series of brutal unsolved murders has occurred. As a detective from New York City, Brian Heigh (Jeffrey Dean Morgan) gets a few introductions to Texas culture over the course of his investigation, and anyone who has never visited a Texas bayou before seeing this film may think twice before scheduling their next vacation in the region.
---
7. The sport of Rollerball, "Rollerball" (1975)
If you thought Enron was a force of evil in the world, "Rollerball" could very well make you feel better about today's most powerful corporations. In director Norman Jewison's film, a company out of Houston called the Energy Corporation tries to force its all-star athlete Jonathan E. (James Caan) to retire from a popular extreme sport similar to roller derby. When he refuses, they up the difficulty of his matches to a deadly level. Thankfully, this could never happen in real life. Right?
---
6. Anton Chigurh's killing spree, "No Country for Old Men" (2007)
Chigurh (Javier Bardem) turned out to be just about the creepiest killer ever to trouble Texas in a movie, even if he was also one of the softest spoken. Recurring Texan portrayers Josh Brolin and Tommy Lee Jones get drawn into the mayhem surrounding Chigurh's quest to reclaim a bag of money, and one by one, the bodies hit the floor.
---