The top 10 ways villains kill you in horror movies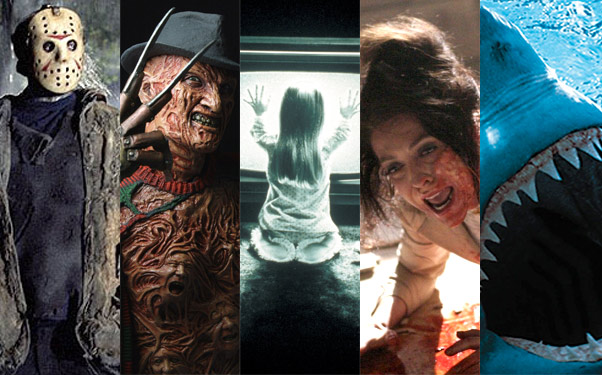 Posted by IFC on
It's Halloween time again, which means it's time to dust off your collection of horror movies and get ready for a deluge of grubby-handed, greedy trick-or-treaters headed to your door. To help prep you for the holiday of fear, we've compiled a list of the most popular ways horror movie villains have killed off their poor, unsuspecting victims on screen. Sure, some are a bit more creative than others, but they all have the same terrifying end results. Let's just say that seeing someone walk around with a machete or chainsaw typically means they're a friend and not a foe in these types of situations. And, in some horror movies, you aren't even safe from your television set or unborn baby!
---
10. Knife
The knife might not be the most original way for villains to off their victims in horror movies, but it certainly is a classic. Whether it's Norman Bates or Ghost Face, there's something definitive and terrifying about the knife's appearances in films. "Psycho" brought the term "slasher genre" to a whole new level back in 1960, and 1978's "Halloween" kicked off a whole new line of imitators when the knife became Michael Myers' weapon of choice. Those films also became the inspiration for 1996's "Scream," which explains why the Ghost Face Killer has done some terrible things with the bladed weaponry.
---
9. Axe
It might not be as subtle as the knife, has certainly seen its fair share of screen time. There are few things more terrifying that someone trying to chop down the bathroom door with an axe while screaming, "Here's Johnny!" Who exactly was "Johnny"? Maybe it was the name Jack Torrance gave to his axe after they became so close when they tried to kill Jack's wife and son. It can be agreed that the 1980 film "The Shining" wouldn't be quite the classic it is without that iconic scene. Unfortunately the recreation of that scene in 2006's "Hatchet" didn't work out as well for baddie Victor Crowley. Let's just say there's a good reason the deformed Louisiana native made an axe his murdering tool of choice in that flick.
---
8. Machete
There's something about the machete that is intricately connected to the horror film franchise. Fans can largely thank Jason Voorhees for making the machete the staple of Halloween costumes depicting villains every year. The machete became the weapon of choice for the undead villain of the "Friday the 13th" franchise, though his hockey mask ended up becoming his iconic accessory. The machete also popped up in 2007's "Hostel: Part II," although its moment of glory got overshadowed by a scalp-tearing saw and some Italians with cannibalistic tendencies.
---
7. Chain Saw
Appropriately, the killers who have become best associated with the chain saw as a weapon are the cannibalistic family in 1974's "The Texas Chain Saw Massacre." The chain saw isn't a particularly subtle or sneaky weapon, but Leatherface certainly made good use of it when he came upon a group of teenagers who want to visit their old family homestead. I guess there's a lesson there in not getting too in touch with your family's heritage when that heritage is in the middle of nowhere in middle America. And while Patrick Bateman might be holding a butcher's knife on the poster for 2000's "American Psycho," it's really his violent murder of unsuspecting blonde model Jean with a chain saw that is his most iconic — and traumatizing — kill. But that could be as much because he is naked and covered in blood in the scene as it is because he manages to drop a chain saw on her from the top of a set of stairs and kill her with it.
---
6. Infection
There are few more effective means of mass destruction and chaos in horror movies than by spreading death through infection. Whether it be a flesh-eating virus like in 2002's "Cabin Fever" or the zombie apocalypse in 1968's "Night of the Living Dead" and 2002's "28 Days Later" (or just about any other zombie movie ever made), infection is a pretty effective way of getting the job done. Of course, it's rarely a calculated decision to infect the population and cause mass murders, but in some movies like 2006's "V for Vendetta" the spread of infection actually is pre-planned. Take Joss Whedon's 2005 flick "Serenity," which revealed that a whole race of terrifying, murdering monsters were originally humans who were infected by a calming agent put into their air source by their own government. The possibilities are terrifying.
---