The 10 most innovative stand-up comedy specials of all time (with video)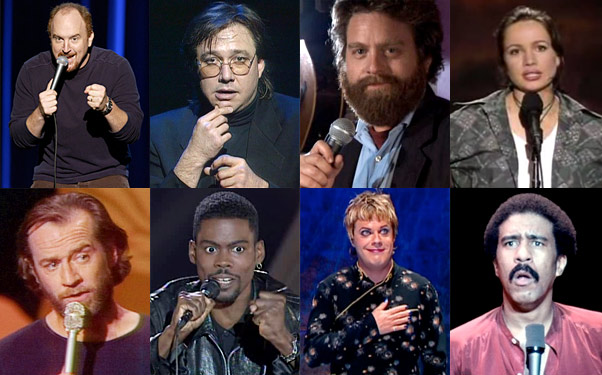 Posted by IFC on
Stand-up comedy is one of the most beloved art forms there is, and it's also one of the most difficult to master. For every Louis C.K., there are a hundred Jeff Dunhams. People often make lists of the best comedians of all time, or the best comedy albums, but when it comes to actual comedy TV specials, which is what every comedian strives for these days to get into heavy rotation on Comedy Central, it's a different story. There's a million of them – some are good, some are decent, some are iffy, and some are awful. Here, however, are some of the most innovative, groundbreaking comedy specials that have ever been made – shows you should really see if you're a fan of comedy at all (Note: specials are listed chronologically).
---
George Carlin at USC (1977)
Any mention of innovative comedy specials has to start with George Carlin, who forged the ideal comedian's career model with his incredible longevity, unstoppable work ethic, and 14 HBO stand-up shows. This one in particular, his first, expanded on the controversial bit he became most known for – the Seven Words You Can Never Say On Television. Carlin started out his comedy career with his partner Jack Burns writing sketches and straight humor, believing he wanted to be like Danny Kaye. In the late 60s, he'd begun a unique transformation into a counterculture observer, being one of the first to really skewer conventional wisdom and that easygoing, free-flowing attitude was on full display, and at the time of this broadcast, the courts were deciding on whether or not his intellectual act was legally obscene, and it carried a stern warning before the encore about the bad words. That's innovation, right from the get-go.
If we didn't want to mention a wider variety of comics, Carlin would earn another spot on this list with Jammin' In New York (1992), which he termed the turning point in his career. With a tighter structure and focused, aggressive timing, he completed a second reinvention of himself into a counter-everything observer, setting off in the direction he'd take for the rest of his life. He made giving up hope on his entire species brutally funny, noting "the planet is fine, the people are fucked." He inspired generations of comedians with his absolutely unprecedented longevity. He's the one, he's the only.

---
Richard Pryor: Live in Concert (1978, film release in 1979)
Richard Pryor broke all the barriers and all the rules. In this concert filmed in Long Beach, CA, he established himself as one of the most influential comedians ever. He'd been working for quite some time before this as a controversial figure, after fights with censors that ended his NBC show early and a lot of public events in his personal life, but this show laid everything bare with hilariously blunt honesty, from his run-ins with the police, drug use and getting his ass whipped by his family to his near-fatal heart attack, hitting racial issues head-on with a fascinating amount of humanity. Pryor took this to another level with his 1982 show Live on the Sunset Strip, when he recounted the catastrophic fire that almost killed him. As crazy as his life was, he always found a way to make things completely relatable – to the point where it almost sounds normal and understandable that he'd be taking a gun and shooting out the wheels of his wife's car so she won't leave him.

---
Sam Kinison: Breaking The Rules (1987)
No one brought more sheer ferocity to the stage than this screaming ex-preacher from Peoria who left the ministry after the demise of his first marriage and became a comic to scream about women, religion and everything else under the sun. This special happened before he went full-on obnoxious rock star, when he was still diving headfirst into the open wound that was his emotional turmoil over two failed marriages and disenchantment with evangelism. There's no filter for the anger, there's no subtlety to graphic sexual conversation and there's certainly nothing close to political correctness considering his underdeveloped attitude towards gays and the general ignorance about the AIDS epidemic (the 80s were a different time, you know). But there's enough visceral venting and cleansing in this show, especially with the classic little piano-accompanied encore, that it feels like the Church of Sam never stopped, it just got a different kind of sermon.

---
Bill Hicks: Relentless (1991)
Nobody was going in the direction Bill Hicks went. He was far enough ahead of his time that his evisceration of the first Bush administration's warmongering was still completely relevant when applied to the second Bush administration's warmongering. He attacked religious hypocrisy, championed chain-smoking and pornography, encouraged everyone in the advertising business to commit suicide. His brutally, sometimes smugly honest and seemingly hateful derision was balanced with this strange optimism about how conceiving of the future of humanity in exploring outer space could be best achieved through hallucinogenic drug use. He was a walking cult of personality, crusading against every injustice he saw while constantly banging his head against the ignorance and apathy of the masses. He's also the reason Denis Leary is not on this list.

---
Janeane Garofalo: HBO Comedy Half-Hour (1995)
She's always been more of a acidic, sardonic commentator than a garden-variety comic, making no effort to be slick, polished or rhythmic in her delivery – she even brings a notebook on stage and apologizes to the audience about needing it due to her own bad memory. Here, fresh off of her bumpy stint on a transitional year of Saturday Night Live (which she described as making her feel like "the Native American who accepted the pox-infested blankets from the U.S. Cavalry"), Garofalo had a delightfully dangerous anger to work through about supermodel-as-celebrity as well as her own deep-seated neuroses, evidenced by her complete inability to understand applause. This is the one where she hit all those 90s hipster guys who were crushing on her square in the self-doubt by asking her audience if, during sex, they've ever wanted to just punch their partner in the face and yell "STOP IT! STOP FUCKING ME!" Many of us were never the same again.

---
Chris Rock: Bring The Pain (1996)
Everything changed for Chris Rock once he picked up the mic in Washington D.C., and it changed for racial ideas across the country as well. For years, racist white people would justify themselves by saying that they weren't using the N-word for all black people, but just most of them, and there were 'good ones' who were exempted from their scorn. Now, suddenly, this kinetically-charged black comedian was pacing the stage like a prize fighter and emphatically talking about the civil war going on – "there's black people, and there's niggas, and niggas have got to go!" That detonated everything. Rock had fully formed his voice after picking up the baton from Richard Pryor and Eddie Murphy, his career went into the stratosphere and he was widely considered the best comic working in the game for long afterwards. This show is exciting, fascinating and mind-blowing to this day.

---
Eddie Izzard: Dress To Kill (1998)
Ah, the Executive Transvestite. "Cake or death" is when America took full notice of this improvisational genius who clowned around on stage indulging in the goofiest of ideas on alternative histories, all the while making the fact that he was wearing makeup and women's clothing a non-issue rather than the focus of his act. The scope of this show is wide, covering big topics like World War II, international relations, languages and the history of religion and civilization in an entertainingly educational manner, while also able to focus on small personal moments like his own sexual growth in the same way. Only Izzard could reference "the United Nations Security Council of My Virginity." He follows wild tangents for as long as they yield fruit, and manages to make them all funny little side journeys into his weird imagination. He has a method all his own that few could even imitate, much less pull off.

---
Zach Galifianakis: Live at the Purple Onion (2005)
This special is an all-out assault on the form, as "Zach Gaspifinaski" intersperses his rambling, inexplicably piano-accompanied wordplay and long stretches of haranguing people in his audience with video clips from his time on the road and a sketch-interview with his fake estranged twin brother Seth. He cultivates this aura of a miserable yet highly goofy alcoholic and one never knows what the hell will be coming out of his mouth next. In fact, it might be nothing at all, as his ending bit involves a children's choir singing "The Greatest Love Of All" while he rips pages out of a large pad of paper detailing his miserable childhood. Honorable mention goes to Demetri Martin: Person (2007), which also really monkeys around props like the "Large Pad" and musical instruments, but it's all done in a lot more polite and amusingly nerdy observational fashion.

---
Louis C.K.: Shameless (2007)
Perhaps the best comic working today, Louis C.K. really launched his career to the next level with this, the first of his full-length specials that really signified his intended trajectory of following Carlin's example, throwing out all his old material and crafting a brand new hour of comedy every few years for each new special. While not without the occasional political insights and social commentary, he instead turned most of the power of brutally, uncomfortably honest observation onto himself, his self-loathing, his others-loathing, and, over the course of the subsequent specials Chewed Up (2008) and Hilarious (2011), his disintegrating marriage and his frustration with fatherhood. He just keeps getting better and more incisive with each new special, but Shameless has the saddest handjob in the world, and the start of Louis saying all the things we think but would absolutely never say – mostly about verbally abusing one's own children.

---
Reggie Watts: Why Shit So Crazy? (2010)
Watts got some attention after opening for Conan O'Brien on his Legally Prohibited From Being Funny On Television Tour for accomplishing the rather stunning feat of deconstructing everything in the world in about ten minutes. He brilliantly blends his considerable musical skills and vocal talent with an intellectual, non-linear parody of the entire format of stand-up comedy, bouncing from accent to accent, non-sequitur to non-sequitur in defiance of all conventions. Effortlessly moving from hip-hop cool to the nerdiest of nerdy ideas, he's so much more about form than content that he bravely refuses to even be quotable. His is a fascinating performance that really needs to be seen with one's own eyes to be truly appreciated, and those who do become rabid devotees. It really doesn't get more innovative than this.