The first images of Tim Burton's "Frankenweenie" hit the web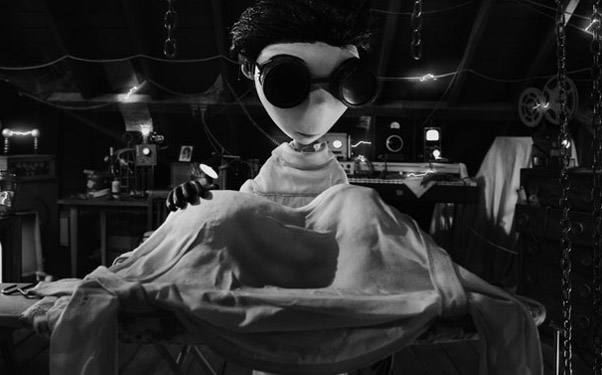 Posted by Terri Schwartz on
The short that originally got Tim Burton fired as an artist for Disney is now one of their most highly anticipated films of 2012. Burton is back to his usual tricks in the upcoming children's horror comedy "Frankenweenie," which is being transformed from his 1984 live-action original into a feature-length 3D stop motion film. The first images from the movie have hit the web, and shows that the flick is in line with Burton's previous stop-motion endeavors, "The Nightmare Before Christmas" and "The Corpse Bride."
Entertainment Weekly has the photos and also interviewed Burton to chat about the project. He explained that the "Frankenstein" spoof/parody that is "Frankenweenie" came from a twist off the classic tale of a boy and his beloved dog.
"It just tries to keep that idea of a very, simple pure relationship," he said. "Mix that with the 'Frankenstein' myth and it causes problems."
In part, the movie is based off Burton's own experiences with his first dog. He recalls that the pet's name was Pepe and had an illness called distemper that was supposed to cause him to die after a few years. But Pepe lived much long than expected, which Burton said "kind of fed into this Frankenstein mythology as well."
Of course, Burton didn't try to tap into his scientific side and bring his pup back together like "Frankenweenie's" main character Victor does with his beloved pet Sparky. The "Alice in Wonderland" director promised that this first image that's been released of Sparky is not how the dog is going to look for very long.
"He doesn't have any stitches yet," he said with a laugh. "That's only a short part of the film. Don't get too used to that look."
Disney originally shelved his short after he made in 1984, deeming it too scary for young audiences and a waste of company resources. But after Burton's successes with "Beetlejuice," "Pee-wee's Big Adventure" and "Batman," Disney finally gave "Frankenweenie" a home video release in 1994.
Burton told EW that he still isn't sure what happened in Disney executives' minds to change their mind about his project so drastically.
"I don't know, they got freaked out or something, but they still allowed me to make the film," he said. "Even though I was frustrated about the release — or not release of it — it was still a great experience, and did a lot for me, so I couldn't really complain."
"Frankenweenie" hits theaters on October 5, 2012. It stars the voice talents of Winona Ryder, Martin Short, Catherine O'Hara and Martin Landau.
Are you looking forward to seeing "Frankenweenie"? Tell us in the comments section below or on Facebook and Twitter.