Farrelly Brothers' "The Three Stooges" debut photo shows off the new Moe, Larry and Curly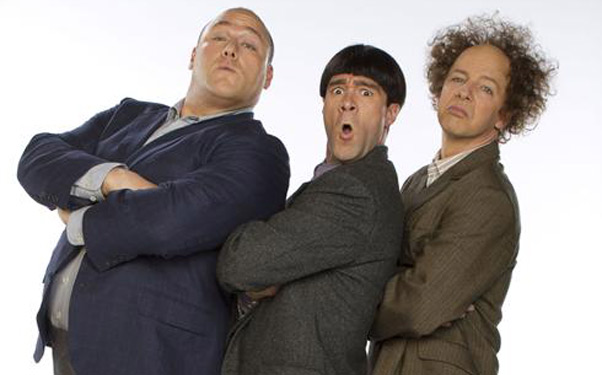 Posted by Terri Schwartz on
After 15 years being stuck in development hell, the first look of the Farrelly brothers' "The Three Stooges" remake has hit the web. Showcasing its titular troublemakers, the picture shows how the movie's three leading men — Chris Diamantopoulos, Sean Hayes and Will Sasso — will look transformed into Moe, Larry and Curly. And, to be honest, they look pretty good.
While "MadTV" star Sasso hasn't changed too much from his typical look, both Hayes and Diamantopoulos definitely look their parts. When compared side-by-side with an image of the original three Stooges — Moe Howard, Larry Fine and Curly Howard — like this one, they actually look fairly spot-on.
The Farrelly brothers first spoke about trying to remake "The Three Stooges" back in 1996, but struggled to bring the project together until earlier this year. Originally the film was supposed to have the A-list cast of Sean Penn as Larry, Benicio del Toro as Moe and Jim Carrey as Curly, but the three eventually dropped the commitment. The Farrellys ended up going with lesser known stars to play the leads. Hayes is best known for his role in "Will & Grace," and Diamantopoulos has made a career of making guest appearances on TV shows.
The movie will stay true to the original "Stooges" films' formats. It will be told as a series of three episodes that take place in the present day, instead of being a biopic or a feature-length film. "The Three Stooges" also stars Jane Lynch as a nun. It is slated to hit theaters on April 4, 2012.
Do you think Diamantopoulos, Hayes and Sasso look the part as Moe, Larry and Curly? Tell us in the comments section below or on Facebook and Twitter.