"The Skin I Live In," reviewed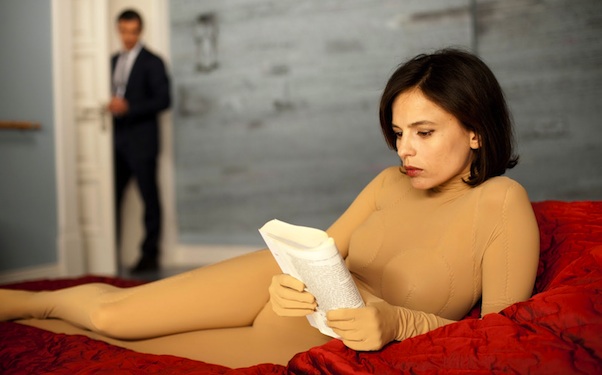 Posted by Matt Singer on
Pedro Almodóvar's films are often about concerns of the flesh, live or otherwise, but his latest, "The Skin I Live In," takes those dermatological concerns to a whole new level. It is about a doctor named Robert Ledgard (Antonio Banderas), who has created a synthetic skin that is far more resilient to damage than normal human tissue. Early in the film he gives an academic presentation on the wonders of skin replacement surgery and how he loves to help people who've been horribly scarred reclaim their identities. He talks about the way enriching the lives of others enriches his own life. Isn't that nice? Sure, but this is an Almodóvar film, so the altruistic doctor also has a woman imprisoned in his estate, and he's using her as a guinea pig for his skin experiments.
That would be Vera, played by the luminous Elena Anaya (see above, as if I need to tell you — more likely I need to clear my throat and remind you to pay more attention down here). Just like Ledgard, Vera has secrets of her own, and her opinion of — and relationship to — her captor changes with each revelation, an appropriate structure for a film that is ultimately about the idea of human metamorphosis.
Again: this is an Almodóvar film (or "A Film By Almodóvar," as he likes to phrase it in the credits). That almost automatically means there are heated sex scenes, sudden bursts of violence, and big melodramatic donnybrooks. It's the sort of picture where a guy can show up at someone's front door in an inexplicable skintight tiger costume, and that's only like the fourth weirdest thing in that scene. Almodóvar brings together a bunch of disparate genres: melodrama, of course, plus comedy, science-fiction, and even a bit of horror, though the film, with its crisp, bright cinematography and fastidious production design, looks nothing like a horror movie. Once again, the emphasis is squarely on mutability. One tone and style gives way to the next, and then the next after that.
"The Skin I Live In," based on a novel by Thierry Jonquet, demands a vigorous suspension of disbelief, but everything ultimately fits together inside the film's demented sense of logic (or lack of logic). It helps to have two actors as committed to (and as deadpan about) the lunacy as Banderas and Anaya, who both seem blissfully unaware that they're stuck inside a batshit insane movie with crazy skin grafts and crazy face masks and crazy body suits, and all kinds of other crazy stuff. Banderas has probably never been funnier in a movie without actually doing or saying a single funny thing.
The movie exists in its own strange little world, but it's a pretty damn fun world to visit for 120 minutes. As another director of corporeal cinema once put it: long live the new flesh.
"The Skin I Live In," fresh off its Gala Presentation at the New York Film Festival, opens in limited release this Friday. If you see it, let us know what you think. Leave us a comment below or write to us on Facebook and Twitter.