George Lucas now editing his posters in addition to his movies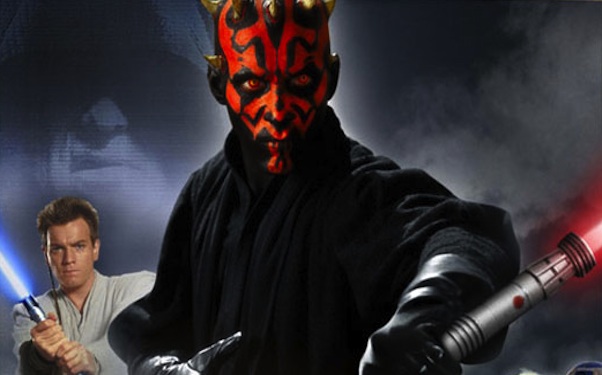 Posted by Matt Singer on
The changes George Lucas has made over the years to his "Star Wars" franchise are well-documented. Given that he just tweaked the films again for the new Blu-ray box set, I thought we wouldn't be getting any more changes, at least for a little while. But the just released poster for the upcoming 3D version of "Episode I – The Phantom Menace" paints such a drastically incomplete picture of what and who the film is about, it's got us wondering if maybe Lucas has secretly reedited the film yet again for its upcoming return to theaters. For your consideration, here is the original (and quite lovely) "Phantom Menace" poster by the great Drew Struzan:
And now here's the poster for the 3D rerelease. See any differences?
The new poster has no little Anakin Skywalker (Jake Lloyd), no Qui-Gon Jinn (Liam Neeson), and no Jar-Jar Binks. It also adds a digital version of Yoda, who didn't appear on Struzan's poster at all. It's like every time you look at it Obi-Wan Kenobi stands over your shoulder and whispers in your ear "Those aren't the characters you're looking for… move along…" A reasonable person with the unreasonable qualification of having never heard of or seen anything about "Star Wars" would take one look at that poster and assume the movie is about the weird-looking dude with the horns and facepaint. "Star Wars: Episode I – The Darth Maul Story," coming soon to a theater near you!
Given the way young Anakin and especially Jar-Jar are so universally disliked, I wonder if fans would actually reverse their long-standing hatred of Lucas' alterations to "Star Wars" if they involved getting rid or minimizing those characters. But, of course, that's just pointless conjecture because it would never happen.
Wait, would it never happen? This is George Lucas we're talking about.
"Star Wars: Episode I – The Phantom Menace" opens in 3D on February 10, 2012. Will you go see it? Tell us in the comments below or on Facebook and Twitter.