A 3D conversion of "The Matrix" trilogy would be "intense," says Carrie-Anne Moss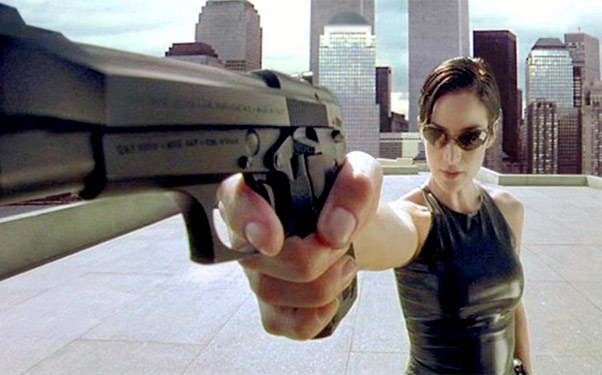 Posted by IFC on
With Disney making bank on their 3D revival of "The Lion King" and iconic favorites like "Star Wars" and "Titanic" coming down the third-dimensional pike, one has to wonder whether one of the biggest sci-fi franchises of the past thirty years could also be targeted for a conversion. Of course we're talking about "The Matrix" trilogy, which pushed the limits of filmmaking with its first installment in 1999 and never looked back. So given the Wachowski siblings' flair for cinema technology, it seems likely the innovative movies have to be on the mind of Warner Bros. execs.
With that in mind, when we caught up with Trinity herself, Carrie-Anne Moss, we asked her if she's heard anything on the matter or whether she'd even like to see a 3D version. The actress, currently starring in "Fireflies in the Garden," has also joined the cast of "Silent Hill: Revelation 3D." The project marks her first foray into the third realm, which as she tells us is a completely new format for her, even as a viewer.
---
James Cameron is converting "Titanic" into 3D, and Disney announced earlier this week that they're re-releasing a bunch of their movies in 3D. It seems like "The Matrix" would be a perfect fit for 3D conversion. Has anyone talked to you about that?
I hadn't heard that, but I could see that. I have no idea, but that would be trippy, wouldn't it? Yeah – that would be intense.
I keep thinking of the shot of you jumping from the first one and how great that might look.
Right. Yeah, that's interesting – an interesting thought.
How much do you like 3D as it's become more commonplace in the industry?
Not so much. [B]ut not because I like it or don't like it. I just haven't – I don't think I've seen a 3D movie at all. At "Silent Hill" when I got to the premiere, that will probably be the first one that I will see.
You didn't see "Avatar?"
No, I didn't.
Wow, I think you're the last one.
Really? Well, I mean, how would I? I can't even see it now in 3D, right? But you know what? I have three small kids and I like to rent movies, but going actually out to the movies, I'm not in that stage right now. I love going to movies, but I kind of had to put that on hold. It's like, if you have a couple of hours to actually do something, you maybe want to go and have dinner and talk, not sit and watch something, you know?
Would you like to see "The Matrix" trilogy in 3D? Let us know what you think in the comments below or on Facebook or Twitter.