Exclusive premiere: The Marshmallow Ghosts' excerpts from "Corpse Reviver No. 2"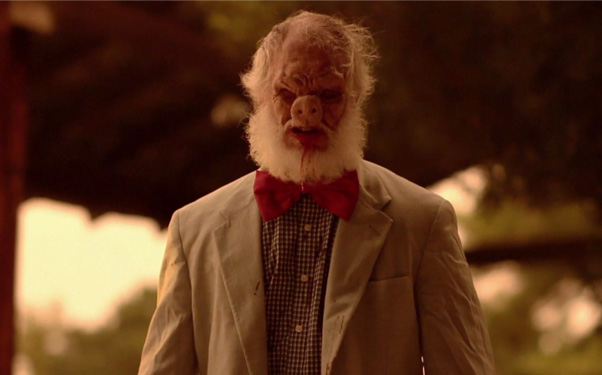 Posted by Brandon Kim on
Graveface Records Halloween supergroup, The Marshmallow Ghosts, are back for their third year in a row with another macabre release, and this one also comes with an album-length music video series, "Corpse Reviver No. 2." This time the spooky confections are made up of Lady Lazarus, Dreamend, Hospital Ships, Casket Girls and Black Moth Super Rainbow.
In "The Attic," from "Corpse Reviver No. 2," a maniac drives around telling a horror story on a microphone from his car, about a girl who had succumbed to yellow fever. The girl decomposes, we're told, the way that all bodies decompose, though usually not in such purple-hued close ups. It's almost pretty to watch, zombie fetishists will surely be pleased as the girl's soul finds peace.
And in "Pig Man's Bridge," a rather hot-headed guy wielding a cute baby pig seems to think his show is more important that the next guy's, and he shows his true face. I think he might end up eating that baby pig too.
video player loading
.
.
.
video player loading
.
.
.
You can watch the other parts, including "The Hearse Song" on Bloody Disgusting, "Trick" at Prefix, and "Wait for the day" here.
Of corpse you are, but let us know for sure that you're Halloween inspired in the comments below or on Twitter or Facebook!