"The Hunger Games" new posters show Elizabeth Banks, Woody Harrelson and Lenny Kravitz in character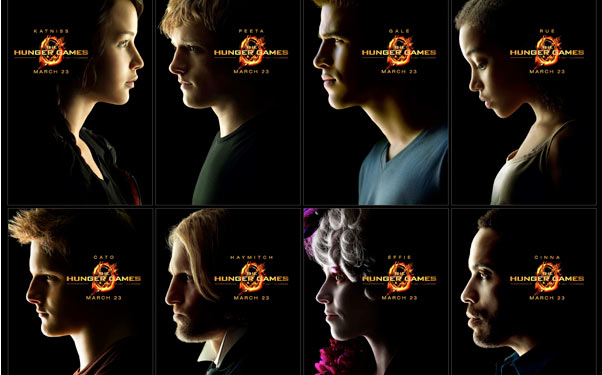 Posted by Terri Schwartz on
Been going through some "Hunger" withdrawals? Lionsgate has released eight brand-spanking-new character posters for "The Hunger Games" to help tide over the five month wait until the movie's March 23 release date. While they might not be as edgy as the last batch of posters debuted, they do offer a lot of first looks at some of the main characters in the upcoming adaptation of Suzanne Collins' best-selling novels.
Fans have already seen Katniss, Peeta and Gale in action, so the real excitement here comes from getting a look at the rest of the major players in the film. Elizabeth Banks as Effie Trinket is definitely the most colorful of the bunch, and it's nice to see how her over-the-top make-up and hairstyle is handled in the film, even if this poster is in profile. It's also the first look at Woody Harrelson as Haymith, though he looks a bit less ragged than I would have expected. And Lenny Kravitz definitely looks spot-on as Cinna.
In terms of the newcomers, it seems like Lionsgate is putting Rue and Cato at the forefront of the other Hunger Games candidates that fans should be aware of. It's an interesting choice for Amandla Stenberg as Rue to be the only character looking down instead of forward on the posters, but I'm not sure if that was just done for style or not. And Alexander Ludwig looks like a very impressive Cato. It will be nice to see him alongside fellow District 2 tribute Clove.
Even though these posters show off eight of the major characters, there are plenty more reveals to look forward to in the next few months. Let's not forget that, despite the fact that the focus has largely been on the three young leads in "The Hunger Games," the franchise has acquired an impressive amount of adult talent. There's still Stanley Tucci as Caesar Flickman, Donald Sutherland as President Snow, Toby Jones as Claudius Templesmith and Wes Bently as Seneca Crane left to see. And, of course, we have yet to see the imagery of The Girl on Fire.
Who else is counting down the days until the next "The Hunger Games" trailer premieres? What did you think of these new posters? Tell us in the comments section below or on Facebook and Twitter.