"The Dark Knight Rises" prologue will reportedly premiere before "Mission: Impossible – Ghost Protocol"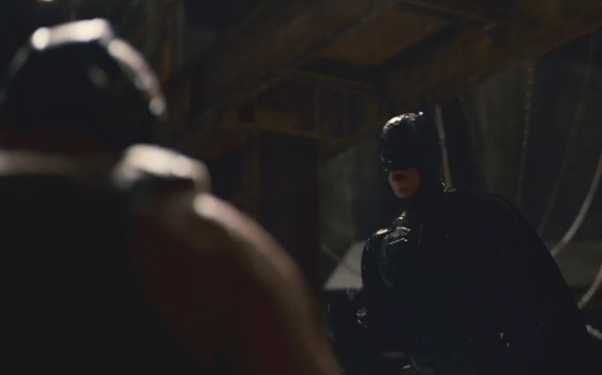 Posted by Terri Schwartz on
The perks of seeing "Mission: Impossible — Ghost Protocol" in IMAX continue to pile on. In addition to the film being released in IMAX theaters on December 16, five days before it hits regular theaters, sources have also confirmed to /Film that the opening sequence of "The Dark Knight Rises" may premiere attached to the upcoming Brad Bird flick.
So far, all fans of Christopher Nolan's Batman series have had to drool over are photos and videos from the set. Now it seems Warner Bros might start their marketing campaign off with a bang by including the opening six minutes of "The Dark Knight Rises" as a preview before "Ghost Protocol." There's no word yet on what those minutes include, but hopefully the sequence will be as epic as the opening scenes in "The Dark Knight."
Warner Bros did the same thing in 2007 for the release of "The Dark Knight" to try to drive audiences into IMAX theaters. Then they released the first six minutes of the film (as seen embedded below) before "I Am Legend." It was a mutually beneficial situation for both movies, as "I Am Legend" went on to do well in IMAX and "The Dark Knight" has become one of the highest grossing movies of all time.
In fact, this supposed marketing campaign looks markedly similar to the one WB used in 2007, which included a slim teaser trailer over the summer and then nothing until they released the opening sequence in IMAX (on December 14, 2007). Only three days after that, the full theatrical trailer for "The Dark Knight" was revealed.
Hopefully the studio decides to go the same route with "The Dark Knight Rises." The flick doesn't hit theaters until July 20, 2012, but it still is high time for a full theatrical trailer. The set videos and photos that have leaked prove that Nolan certainly has enough footage to put one together. It's about time we actually get to see Catwoman in action.
Does this news make you want to go see "Ghost Protocol" in IMAX? Tell us in the comments section below or on Facebook and Twitter.