"The Dark Knight Rises" prologue is official, only being shown in 70mm resolution IMAX theaters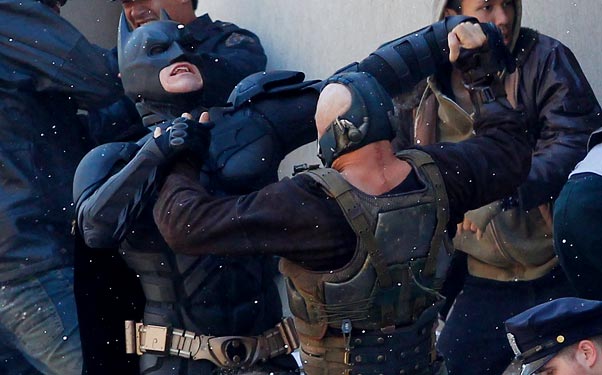 Posted by Terri Schwartz on
It's official: you can catch the first six minutes of " before IMAX screenings of "Mission: Impossible — Ghost Protocol" starting on December 16. But only IMAX theaters with 70mm resolution will be able to show the prologue to the upcoming superhero movie. AMC Theaters is reporting that those hoping to see "Ghost Protocol" on a digital IMAX screen will be out of luck if they also wanted to see the opening minutes of "The Dark Knight Rises."
"The six minute Dark Knight Rises prologue footage will only be shown on the higher resolution 70mm IMAX screens. Not the digital IMAX screens. Locations haven't been confirmed yet, so stay tuned for an update on AMC Theatre locations that will be showing the prologue Dark Knight Rises footage at a 70mm IMAX screen nearest you," the AMC blog posted, though it later retracted the article. "Please refer to Warner Bros. for any information about The Dark Knight Rises," it now says.
There still have not been a list of theaters that will be showing the prologue released, though hopefully Warner Bros will announce that beforehand so attendees can make sure they go to the proper theater. This will be the first full footage fans will have to see of "The Dark Knight Rises" other than the teaser trailer that was released over the summer.
Warner Bros did a similar marketing campaign before the release of 2009's "The Dark Knight." After releasing a teaser over the summer, Warner Bros showed the opening six minutes of the movie before IMAX releases of "I Am Legend," and then debuted a theatrical trailer shortly thereafter. With "The Dark Knight Rises" hitting theaters on July 20, 2012, now is about the right time for a full trailer of the movie to be released. Here's hoping.
Do you think it's a smart idea to only show the prologue on 70mm resolution screens? Tell us in the comments section below or on Facebook and Twitter.