Warner Bros. scores a win in ongoing Superman lawsuit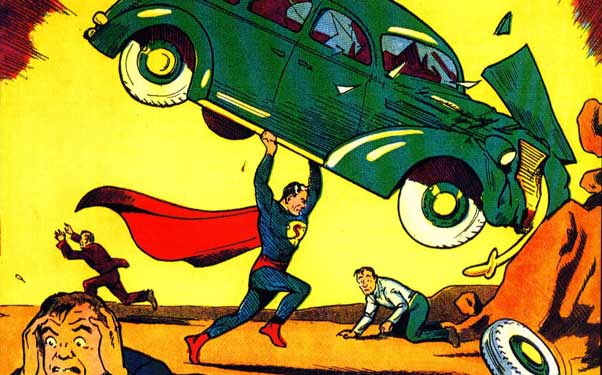 Posted by Aubrey Sitterson on
For almost as long as DC Comics has been raking in money with the world's most iconic superhero, the creators of Superman, Jerry Siegel and Joe Shuster, and their heirs have been fighting for the proper credit and compensation. While Warner Bros., the parent company of DC, is still set to lose some of the copyrights of the character and concept in 2013, a recent judicial ruling allows the company's lawyers to move ahead with a lawsuit against Marc Toberoff, the lawyer representing Siegel and Shuster's heirs.
Deadline broke the news, explaining that while the ruling doesn't actually settle anything in regards to who owns what aspects of the character and the Superman mythos, it could make proceedings decidedly more difficult for Toberoff and his clients. Toberoff is a well-known intellectual property lawyer, and has previously worked with the estate of Jack Kirby in similar lawsuits against Marvel Entertainment. He has an impressive record of standing up to gigantic media companies, so Warner Bros. has been searching for any way to get him out of the picture.
The root of Warner Bros. lawsuit lies in the fact that Toberoff allegedly went into business for himself, setting up arrangements between his company, Pacific Pictures, and Siegel and Shuster's heirs. Part of the arrangements even included the Shusters signing Pacific Pictures agreements, "which purport to assign Toberoff the same rights the Shusters had already assured DC."
So what does this mean about the future of your favorite Superman comic books and the new "Man of Steel" movie? Honestly, not a whole lot right this second. What we're seeing here are preliminary legal maneuverings, with both sides jockeying for leverage over the other. Even if some of the Superman rights reverted back to the character's original creators in 2013, it would still be highly, highly unlikely that Superman would cease to exist or fly away to another publisher.
The reason behind this is that neither Warner Bros. nor the Siegels and Shusters would have complete, usable rights to the character, just small individual pieces and shared rights to other parts of the concept. While it would mean negotiating a hefty new licensing deal with Siegel and Shuster's heirs, it would be completely possible for DC to stay the course with their flagship character, especially since the Siegels and Shusters wouldn't have the ability to really go anywhere else with Superman.
What do you think about this increasingly complex issue of copyrights, trademarks and intellectual property? Tell us in the comments below or on Facebook or Twitter.