Stuntman dies on the set of "The Expendables 2"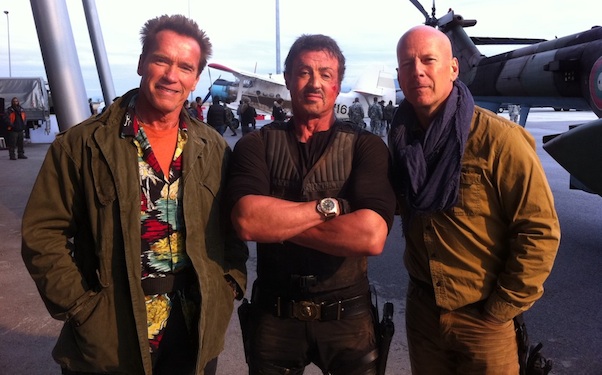 Posted by Matt Singer on
We've been so looking forward to next summer's "The Expendables 2," with its insanely awesome new school meets old school cast and Mount Rushmore of Action Twitpics, so this news is really, really sad.
The Hollywood Reporter reports that one stuntman was killed and another sent to the hospital in critical condition after a special effect went awry on the set of "Expendables 2" in Bulgaria. According to the article, "two stuntmen were in a rubber boat in the water when, around 7 pm local time, a planned bomb explosion went wrong." The shot was being recorded by the second unit; writer/star Sylvester Stallone and the rest of the main cast were shooting another scene several hours away. The film's production company, Nu Image, issued a statement confirming the accident and expressing its regret over the tragedy.
It's horrible whenever any accident like this occurs, but it feels particularly cruel on the set of a movie called "The Expendables 2." Far too often stuntmen do get treated like they're expendable, or at least unimportant, when the fact of the matter is without stuntmen there would be no "Expendables 2" or "Expendables 1" or just about any other action film worth a damn. Their anonymity is vital for the illusion of Hollywood movies, but at times like this it's worth remembering that these men and women knowingly risk their lives for our amusement while their famous co-stars get all the credit. So to the two men involved, and to all the others in their field who we constantly ignore: thank you for everything you do. And please be careful.
Share your thoughts about "The Expendables 2" in the comments below or on Facebook and Twitter