Watch Spike Jonze's new stop motion short film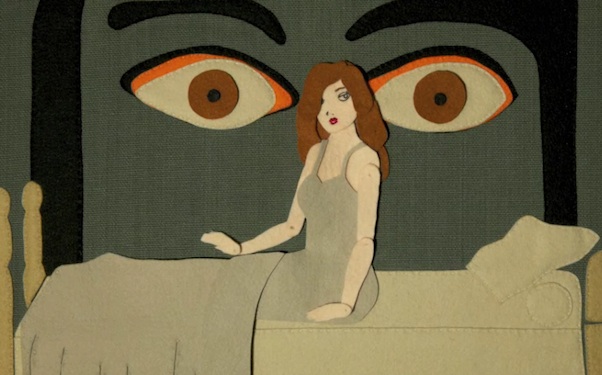 Posted by Matt Singer on
Via Vulture, here's your chance to see "Mourir Auprès de Toi" ("To Die By Your Side"), the new film from "Being John Malkovich" and "Where the Wild Things Are" Spike Jonze. After premiering at Cannes' Critics Week and playing earlier this summer at the IFC Center in New York, Jonze's stop motion short found an online home at Nowness.com.
The film was co-directed by Simon Cahn and "created" by French designer Olympia Le-Tan, who makes the felt book covers that inspired the animation. Jonze apparently asked Le-Tan for a piece, and she agreed on the condition that he make a film as the payment for it. 3,000 pieces of felt later…
The short definitely has Jonze's trademark combination of peculiar beauty and low-brow humor. Old Paris bookshops and oral sex jokes; I love it.
This is Jonze's second awesome short of the year, after his action figure inspired music video for the Beastie Boys' "Don't Play No Game That I Can't Win." As for his next big project, he's supposedly working on a feature with "Malkovich" screenwriter Charlie Kaufman about a secret meeting of scheming world leaders, but details are still pretty scant. We're mouriring to know more.
What's your favorite Spike Jonze film? Tell us in the comments below or on Facebook and Twitter.