Steven Spielberg says George Lucas screwed up "Indy 4"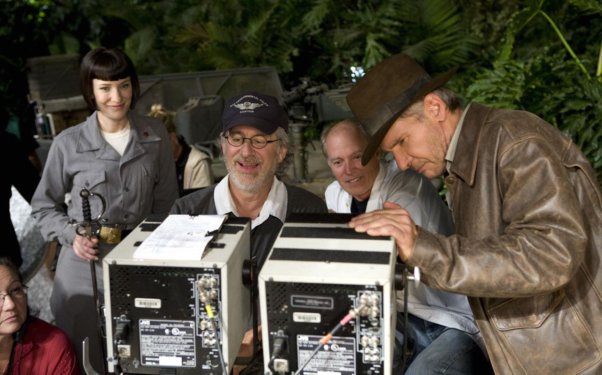 Posted by Matt Singer on
Reason #168 it's awesome to be Steven Spielberg: you can pretty much say anything you want. A director who didn't have Spielberg's clout, job security, and reputation couldn't go around openly questioning his screenwriter. Spielberg, on the other hand, can — and just did — bash his screenwriter, George Lucas, like an Internet fanboy.
While speaking about his upcoming 3D animated movie "The Adventures of Tintin: The Secret of the Unicorn" with Empire, Spielberg addressed the lingering disappointment around his last film, "Indiana Jones and the Kingdom of the Crystal Skull." Though he says he's "very happy" with how the movie ultimately turned out, he acknolwedged that he can "sympathize" with people who didn't care for the big third act reveal because he never liked it either. He told Empire:
"George and I had big arguments about the MacGuffin. I didn't want these things to be either aliens or inter-dimensional beings. But I am loyal to my best friend. When he writes a story he believes in — even if I don't believe in it — I'm going to shoot the movie the way George envisaged it. I'll add my own touches, I'll bring my own cast in, I'll shoot the way I want to shoot it, but I will always defer to George as the storyteller of the Indy series. I will never fight him on that."
Man, following your friend and longtime collaborator right off a cliff even when you know he's got a bad idea. That's loyalty. Wait, what am I saying? He's openly dissing his idea in public! That's loyalty?
Whatever else it is, it's certainly candid in a way you only see in film interviews with people who've achieved Spielberg's level of status and success. Oh by the way, if "Indy 4" didn't kill your enthusiasm for "Indy 5," Spielberg says Lucas is working on that story now. I'd make a joke about Lucas' fridge-nuking screenplay being done sometime soon, but apparently that's the one "Crystal Skull" gag Spielberg does own up to inventing. He told Empire, "That was my silly idea. People stopped saying 'jump the shark.' They now say, 'nuked the fridge.' I'm proud of that."
I guess it's nice that someone's proud of it. Actually, I have to admit I kind of like the nuke-the-fridge scene. But people get so angry about it that I tend to keep that fact hidden away, like the Ark of the Covenant in an army warehouse. I'm surprised Spielberg doesn't do the same. Then again, see Reason #168 why it's awesome to be that guy.
Who's to blame for "Crystal Skull"'s problems? Tell us your thoughts in the comments below or on Facebook and Twitter.
[H/T Vulture]