Sean Penn to direct Robert De Niro and Kristin Wiig in "The Comedian"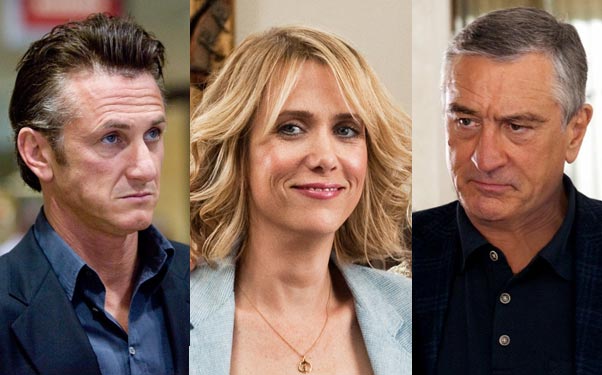 Posted by Terri Schwartz on
Marking his first directorial effort since 2007's "Into the Wild," Sean Penn has officially come on board to direct the drama "The Comedian." He had tapped some interesting talent to play his leads: Robert De Niro and Kristin Wiig. The unlikely duo will play an aging comedian and the woman he falls in love with.
The script, written by Art Linson with comedian Jeffrey Ross assisting, has been circling around Hollywood for a while now. Originally Martin Scorsese was rumored to be helming the project with De Niro as the titular comedian, but Penn started negotiations to direct the movie earlier in the summer. Now The Hollywood Reporter confirms that he is officially directing the flick, with plans to start shooting in the spring.
"The Comedian" follows an aging insult comic who one played a beloved television character but now sees his career stalling out. During one stand-up set, he hits an audience member in the head with a microphone and gets sentenced to doing community service as punishment. It's there that he meets a "dazzling redhead who turns his life sideways," according to THR.
Though the movie will likely contain elements of comedy, it will be interesting to see Wiig in her first truly dramatic roles. Both "Bridesmaids" and "Whip It!" were dramatic to a certain extent, but Wiig still leaned upon her comic training for those performances. Still, I don't doubt that she has the chops to face off against De Niro on the big screen, and it is nice to see her given a chance to show off her range.
Do you think that De Niro and Wiig make an interesting pair? Are you glad to see Penn behind the camera again? Let us know in the comments section below or on Facebook and Twitter.