"Martha Marcy May Marlene" and Mister Sean Durkin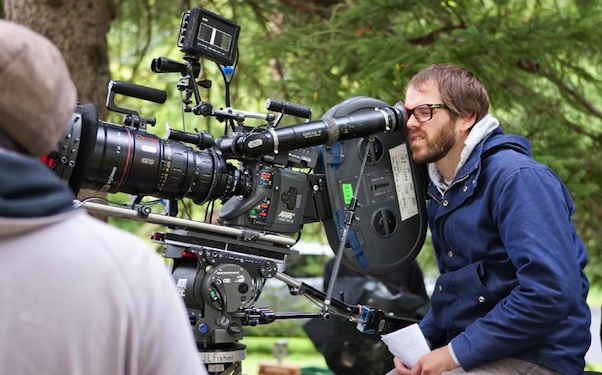 Posted by Matt Singer on
Director Sean Durkin wasn't brought up in a religious household but he attended religious schools his entire life. Raised in England, he moved to New York as a teenager and transferred to an Episcopalian high school. One day, something in Durkin snapped.
"I remember being at school during morning meeting and looking around at everybody, 350 kids, saying a prayer," Durkin told me. "We're all very young and no one knows what it means, and I remember feeling strange that people were just repeating words that they didn't understand. I refused to participate. For some reason I always rejected it, but respectfully."
Now Durkin is the (Gotham Award nominated) director of "Martha Marcy May Marlene," a powerful family drama and slow-burn thriller about a woman named Martha (impressive newcomer Elizabeth Olsen, sister of Mary-Kate and Ashley) who escapes from a cult led by a charismatic but fearsome man named Patrick (John Hawkes). Martha tries to reintegrate herself into society while staying with her sister (Sarah Paulson) and her husband (Hugh Dancy) at their Connecticut lake house, but things don't go smoothly. Even with her family, Martha is uncomfortable and paranoid. She's still haunted by memories — or are they nightmares? — of her time in the cult. Physical escape, it seems, is not the same as mental escape.
So did Durkin's formative religious experiences inform the making of this film about a cult? "When I started making the film it had nothing to do with any of that," Durkin said. "But I think that a part of where the desire to make a film about a cult came from was that I had this huge fear of conforming, and a cult is a place where conformity is taken to an extreme level."
Durkin's a bit of a non-conformist as a writer/director as well. "Martha Marcy May Marlene" sports an unique visual palette and a bold chronological structure; to mimic its protagonist's own sense of emotional and chronological confusion, the movie bounces back and forth between Martha's time in Patrick's flock and her struggles at her sister's house. During our phone conversation, Durkin and I bounced from his inspirations to his feelings on the value of film school.
What was the original inspiration for the script?
I'd never seen a cult film that was modern and naturalistic, set in present day. Then I started researching cults and the process of what drew people in and what kept people there.
Have people who've been in cults come up to you after screenings to talk about their experiences?

Yeah, that's happened.
What are their reactions?
At festival screenings and the press tour we did, people would come up and say the film really represents what it feels like to be in one of these things and to try to get out. That to me is the biggest compliment, that they felt I was able to recreate that feeling. It's been one of the most rewarding things in the whole process.
The structure of the film, flashing back and forth in time, is so crucial to how the movie works. Was that always in the script from the beginning or did it develop later?
That was in the script from a very early point. A friend of mine heard I was writing this script; I didn't know this about her, but she had been involved with some similar group. She had never talked about it and she decided to share her story with me. In doing so she described the first few weeks after she left as being a time of confusion and paranoia. She didn't really remember anything except that she lied to everyone about where she had been. She was in basic survival mode.
One that was common in every group I researched was there wouldn't be any calendars anywhere, so people lose track of time and they don't know how long they'd been there for. So I thought if [Martha]'s leaving and she's lost track of time and she's in a state of confusion the idea that she would be lost in time and space and experiencing them both worlds simultaneously made sense.
I never thought of them as flashbacks. I generally don't like flashbacks in movies so I always approached them like they were both the present and past, because the film's from Martha's perspective and for her, she's still figuring it all out.
What was the hardest role to cast in the film?
Martha. That was the only role I really auditioned people for. John [Hawkes], Hugh [Dancy], and Sarah [Paulson] were all handpicked by our casting director, Susan Shopmaker.
How many people did you see for the role?
I probably saw between 50 and 70 people. It was hard because you write a character who's quite elusive and quiet and if you cast someone who's just depressed and cut off, then the role loses everything. So I was looking for something and I didn't quite know what it was. I saw everybody and there wasn't a single person I was interested in. There were good actors and good reads but it just didn't feel right. And then Lizzie came in; Susan left her for the last day of casting because she was one of her top picks. She came in and during the very first read of the first scene I saw something happening that wasn't happening with anyone else. I felt it right away. We continued to talk and I got to know her a little bit and that was it.
What did she do that was so different?
I got a sense that she could convey a lot of feeling with her eyes without trying. She was totally effortless. And that continued into the performance in the film. You never feel like she's trying. One of the big fears of casting an unknown or an inexperienced actor, even if they're really good, is you sort of expect to have to work with them to pull out a performance. And with her there was none of that. She was as prepared from the first take of the first scene as someone like John or Hugh.
I love your cinematographer, Jody Lee Lipes. He just seems to be working at a much higher level than a lot of his contemporaries. What makes him special?
Natural ability and demeanor. He's so wonderful to work with because he's so calm. I'm a calm director and I want the set to be calm, and he's even more calm than I am. So he becomes calming to me in a lot of ways.
We were actually talking about this, how people in film school have stopped shooting films on film. We were at school together; [Jody] shot my student film. He just got to shoot so many films on film while we were there. I feel like we've might have been one of the last classes to do that; I know NYU has changed their program and are shooting a lot less film.
I hadn't thought about that before. So the way film schools are changing, the tools they're letting people work with, could affect the next generation of cinematographers.
Yeah, I wonder what cinematographers are doing now in school and how they're learning to shoot.
You had some pretty important experiences in film school and besides meeting Jody. You also met your production company partners [Borderline Films' Antonio Campos and Josh Mond] there. I often see directors telling aspiring filmmakers to skip film school and use the money they would have spent on tuition to make a movie. I'm guessing you might disagree.
Yeah. I'm a believer in film school. That argument about going out and making a film, that can definitely work for some people. But I don't think when someone just picks up a camera and makes a film it ends up being very good. Filmmaking is a real craft. You have to experiment and school gives you the time to experiment with no pressure. It also allows you to make relationships with people who are in the same position as you. We formed our group and we've kept it. The same people who shot my student film in 2005 shot "Martha" in 2010. My DP, editor, sound, AC, gaffer, all the way down the line. It's the same group. We all came up together, and there's something about doing that and forming that trust and that shorthand that makes for a very natural progression and growing process.
Before I let you go: talking with other people who've seen the film, I've been surprised how many people miss the explanation of who "Marlene" is. Does it bug you when people don't catch it? Or do you like the fact that you need to be paying attention to spot her?
I do get that question sometimes at Q&As. It's okay, some people do get it and some people don't. It's not totally crucial, I guess. My feeling is you put everything in the movie very specifically. I don't like to explain when people ask that question because whatever is in the film, whatever someone takes from it, whatever their reaction, and whatever they pick up on or don't, is all good. That's all fine.
You must hate it when people ask you about the ending.

Well I just don't answer. [laughs] Some people want to know what happens next. I don't know what happens next; we didn't shoot that.
[laughs]
The one thing I do say when people ask about the ending is that the film is Martha's experience. I set out to create the experience of what it's like for someone who comes from a group like this. Where the film ends, that's where it ends for Martha. If people have questions, they're probably the same questions that Martha has.
"Martha Marcy May Marlene" opens tomorrow. If you see it, tell us what you think of it in the comments below or on Facebook and Twitter.