Russell Crowe as Superman's father in "Man of Steel" behind-the-scenes photos hit the web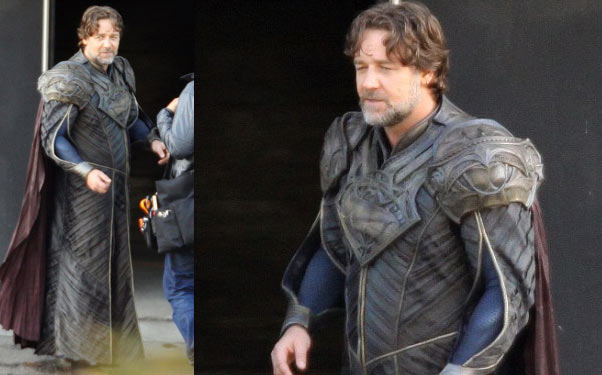 Posted by Aubrey Sitterson on
We've long known that Russell Crowe would be taking on the role of Superman's father in "Man of Steel," but it's been up in the air how close his portrayal would hew to that of Marlon Brando, who played Jor-El in the original 1978 "Superman." Fortunately, we can finally quit speculating as photos of Crowe on set have leaked to the internet.
The Daily Mail snagged the photos, and couldn't even get through their headline without making fun of Russell Crowe for being "paunchy" and sniping at him for his failure to quit smoking. For our money though, we kind of dig a respectably heavy Jor-El – no one's dad should have six-pack abs, even Superman. We can even indulge the conceit that Krypton's red sun might negate the dangers of smoking.
If you aren't a catty British tabloid, you're probably more interested in what Crowe's costume looks like, so let's discuss that, shall we? Like Brando's Jor-El, the outfit has the giant S-logo on the front, but that's where the similarities end. Unlike Brando's fab all white, turtleneck, sensible polyester-blend ensemble, Crowe's costume looks decidedly more militaristic, with a heavily-detailed mantle and shoulder pads. The outfit also features a reddish cape and underneath the robe, the same dimpled blue material seen in the Superman costume worn by star Henry Cavill.
Crowe joins Cavill, Amy Adams as Lois Lane and Kevin Costner and Diane Lane as Superman's Earth parents, Ma and Pa Kent. "Man of Steel," directed by Zack Snyder ("300" and "Suckerpunch"), will hit theaters on June 14, 2013.
What do you think of Russell Crowe's Jor-El costume? Do you dig it, or like the Daily Mail, would you prefer a slimmer, more svelte Papa Superman? Tell us in the comments below or on Facebook or Twitter.