Our favorite rejected "Die Hard 5" titles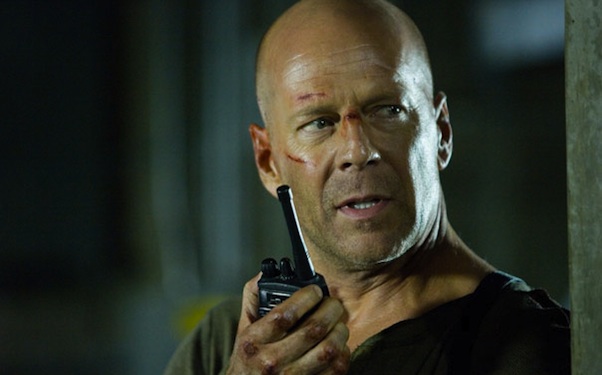 Posted by Matt Singer on
It's been four years since Bruce Willis (metaphorically) strapped on his wife beater and tossed off his shoes in the last "Die Hard" film, "Live Free or Die Hard." Now we can say officially: it'll be a year and a half more until he does it again.
According to The Hollywood Reporter, Fox has scheduled the fifth "Die Hard" film, which will be titled — ahem — "A Good Day to Die Hard," for February 14, 2013. Yep, Valentine's Day. Ladies, I know how much you enjoy spending Valentine's Day watching Bruce Willis action films, but try to contain your excitement. Thank you.
"A Good Day to Die Hard" is a decent title, if not as extravagantly silly as "Live Free or Die Hard." I wasn't convinced, though, that there wasn't a better (or, at least, more extravagantly silly) alternate title out there. I wracked my brain, and put it to Twitter, and came up with this list of:
Rejected Titles for "Die Hard 5"
"Die Hard(ish)"
"A Horrible Way to Die Hard"
"Die Hard on a Die Hard Movie"
"Long is the Way, and Die Hard"
"Die Harder, Better, Faster, Stronger"
"Die Hard: The Dewey Cox Story"
(And From The Brilliant Men and Women Of Twitter)
"The Die Hardentity" —@AJHandegard
"Die H5rd" —@dankois
"Die Hard (Full Sequence)" —@highlolola
"Die Hard With the Wind" —@CoreyAtad
"Only the Good Die Hard" —@Matt_D_Cohen
"I Just Died Hard In Your Arms Tonight" —@davidlfear
"Die Hard Another Day" —@kenjfuj
"Spring Forward, Fall Back, Die Hard" —@dark77778
Got a good #rejectedDieHard5 title? Leave it in the comments below or on Facebook or Twitter.