Ray Villafane brings "Predator," "Child's Play" and many others to life in pumpkin masterpieces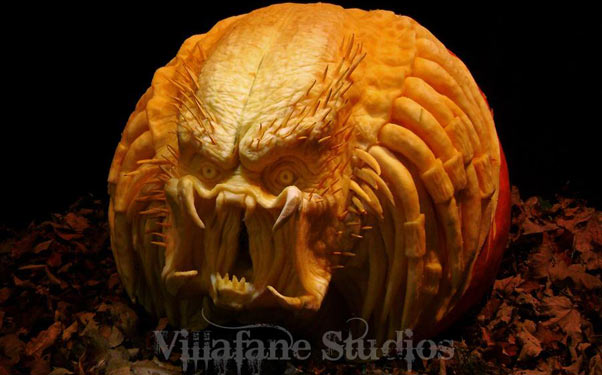 Posted by Terri Schwartz on
If you're a fan of comic book action figures, you probably know who Ray Villafane is even if you don't recognize his name. The 42-year-old Arizona native earns his weekly paychecks by sculpting wax prototypes of toys and action figures for companies like DC Comics. But every year come fall, Villafane becomes known for something a bit more festive.
Along with his gift for working with clay, the sculptor makes a yearly tradition of creating masterpieces out of pumpkins every Halloween. The Wall Street Journal, who were duly impressed by Villafane's skills, caught up with the sculptor to talk to him about his pumpkin carving endeavors.
"I like carving pumpkins for the same reason people who enjoy looking at them enjoy looking at them. I experience the same enjoyment that they do. It hasn't lost that appeal to me yet," he explained.
Villafane doesn't typically go into pumpkin designing with a clear idea in mind. Sometimes he sketches an outline on the gourd to give him the right idea, but sometimes all it takes is a malformed section of the pumpkin or a shadow hitting it in the right way to give him inspiration. In the video above, Villafane designed a giant ogre-shaped pumpkin and one that has a notch for him to put his fist so it looks like he's punching it in the face.
"The fact that pumpkins are temporary art is an added bonus. It's kind of like that holiday dessert that you only have once a year," Villafane explained about his attraction to the art. "Your memories of it are really heightened and you become more emotionally attached to it."
Does Villafane's carved pumpkin put the one on your doorstep to shame? Tell us in the comments section below or on Facebook and Twitter.