Exclusive premiere: David Wax Museum "Yes, Maria, Yes"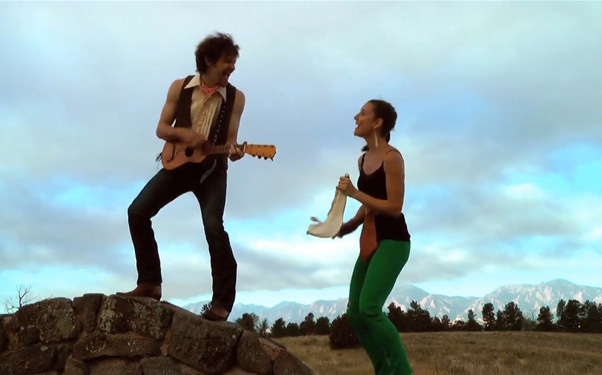 Posted by Brandon Kim on
David Wax Museum's melding of Mexican and American folk is a jamboree of border country melodies and roots rhythms. Founded by David Wax and Suz Slezak, the Museum creates its Mexo-Americana with more than a fusion aesthetic, these East Coast Americanos keep it real with traditional Mexican instruments like the jarana and a donkey jawbone.
The whimsical ditty, "Yes, Maria, Yes" is off the band's acclaimed 2011 album, "Everything Is Saved." Slezak, a fiddler, vocalist and jawbone percussionist, told us about her delight in making the video out west.
"I don't think I can imagine a more delightful way to spend a weekend than scampering around the parks surrounding Boulder, Colorado, with a beautiful troupe of dancers and my jawbone in tow," the toothy percussionist said. "And that's exactly what we got to do in mid-August when we met up with director Joy French to film our latest music video. Joy was an incredible director, both for her professionalism and creativity as well as her sensitivity to our abilities (or lack thereof!) in the dance moves department. She understood that above all, we wanted to express the fun we have when we play music, which hopefully comes across in this gorgeous video!"
"One of my favorite things about our life as musicians is our ability to collaborate with other types of artists," Slezak, who traveled the world studying textiles before joining the band, continued. "Whether poster designers, stylists, photographers — or in this case, a brilliant choreographer/videographer working in tandem with a sparkling team of dancers."
video player loading
.
.
.
No, Maria, no? Let us know in the comments below or on Twitter or Facebook!