Self-styled Seattle superhero Phoenix Jones reveals true identity after being arrested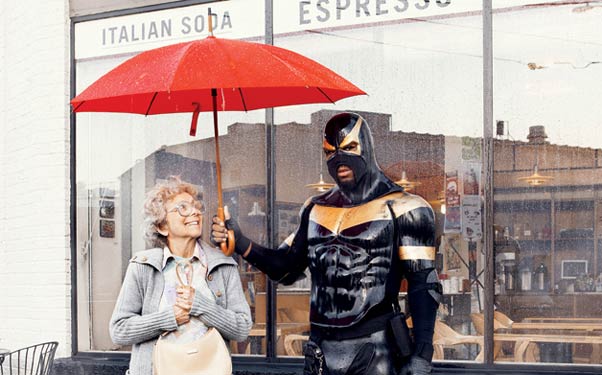 Posted by Terri Schwartz on
The Seattle area has a regular Kick-Ass-style superhero on their hands. Crime-fighting vigilante Phoenix Jones had been arrested for assault earlier this week after he attacked a group of people leaving a nightclub with pepper spray, but today prosecutors decided not to press charges against the self-styled superhero. Jones arrived at the courthouse in his black and gold superhero outfit, but was forced to remove his mask during proceedings. After he was told charges wouldn't be pressed, Jones committed the superhero faux pas of revealing his citizen's identity to the public.
"In addition to being Phoenix Jones, I am also Ben Fodor, a father and brother," he said without irony after removing his hood. "I am just like everybody else. The only difference is that I try to stop crime."
According to Fodor's story, he was breaking up a fight outside the nightclub. Video released of the event, which occurred early Sunday morning, shows a woman chasing after Fodor — dressed as Phoenix Jones — waving her purse at him. Apparently the prosecution didn't feel that Fodor was out to hurt anyone with the pepper spray as they declined to press charges. However, it's unclear whether Fodor will end up facing charges at a later date. Apparently Fodor regularly patrols the Seattle area as Phoenix Jones.
During his press conference following the courthouse hearing, Fodor said he would continue his anti-crime patrols and invited the public to accompany him in the future. However, police spokesman Mark Jamieson told Seattle's Channel 9 that he would prefer if that wasn't the case.
"If you see something that warrants calling 911, call 911," Jamieson said. "You don't need to dress up in a costume to do that."
How do you think Fodor managed to come up with the name "Phoenix Jones" for his superhero creation? Share your thoughts on this story in the comments section below or on Facebook and Twitter.