"Paradise Lost 3: Purgatory," reviewed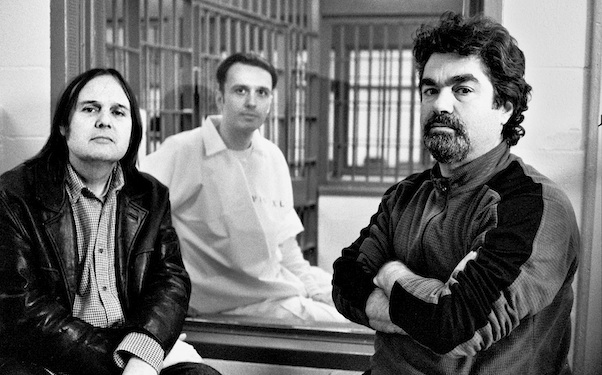 Posted by Matt Singer on
With its third entry, the documentary series "Paradise Lost" earns its title: these films now constitute an epic tragedy of American injustice. The first film, "Paradise Lost: The Child Murders at Robin Hood Hills," premiered in 1996; the second, "Paradise Lost 2: Revelations," debuted in 2000. Now "Paradise Lost 3: Purgatory" returns to the aftermath of the same horrific crime fifteen years later. Characters from all sides of the case — investigators and prosecutors, victims and the accused — reflect on who they were then and who they are now. Directors Joe Berlinger and Bruce Sinofsky cut back and forth between the past and the present. The addition of time adds scope, insight and poignancy to everything we see.
Berlinger and Sinofsky have been chronicling the case against Damien Echols, Jason Baldwin, and Jessie Misskelley — collectively known as the West Memphis Three — since they were first arrested for the murders of three young Arkansas boys back in 1993. From the very beginning, the filmmakers were skeptical of the official version of events put forth by police, who claimed that Echols was the ringleader of a local Satanic cult, and that he, Baldwin, and Misskelley committed the crime as a sort of religious sacrifice. Their skepticism was well-founded since there was no evidence that the West Memphis 3 were involved in any way, except for a confession by Misskelley procured under questionable circumstances.
You might expect the fact that the West Memphis Three were released from prison in August to blunt "Paradise Lost 3″'s impact. It doesn't. Berlinger and Sinofsky do an outstanding job of contextualizing this summer's surprising turn of events, and of explaining the reasons why they happened. They also explain why the State of Arkansas would release the West Memphis Three for pleading guilty (via an obscure legal technicality called an Alford plea) after they spent decades futilely protesting their innocence (the short answer: to avoid admitting their own guilt and risking a civil suit). The scene where the Three are released after they plead guilty plays like a something out of Terry Gilliam's "Brazil," only this isn't a glimpse into a dystopian fantasy of society's dark future, it's a glimpse of our actual society's dark present.
The filmmakers also do a remarkable job of updating us on the lives of all their characters. The most interesting one might by John Mark Byers, the stepfather of one of the victims who Berlinger and Sinofsky incorrectly fingered as a possible suspect in "Paradise Lost 2" (whoops). After years of Bible-thumping and fire-and-brimstone preaching against Echols, Byers seems to have found peace and a certain amount of clarity. "What's right and what's wrong are two different things," he says. "And the right thing is these boys are innocent." Byers even has a "Free the West Memphis Three" bumper sticker on his truck. Whodathunkit?
Over their nearly twenty year journey with the West Memphis Three, Berlinger and Sinofsky have become more than storytellers; they're now a fundamental part of the story itself. The first film led directly to the rise of a nationwide grassroots movement to free the West Memphis Three which led directly to the outside funding that led directly to new avenues in their defense. When Byers presented the directors with a blood-flecked knife as a gift, they handed the knife over to police and helped spur an investigation into his possible role in the murders. Berlinger and Sinofsky's actions throughout the "Paradise Lost" saga may raise ethical questions about the appropriate behavior of documentarians, but those are dwarfed by the ethical questions raised about the American legal system, which is revealed in these films to be deeply damaged if not irreparably broken. So thank goodness Berlinger and Sinofsky were there to watch this all happen, and to encourage people to stand up against injustice. It's good when a film moves people to tears. It's better when it moves them to action.
"Paradise Lost 3: Purgatory" screens tonight at the New York Film Festival. If you see it, tell us what you think; leave us a comment below or write to us on Facebook and Twitter.