Just in time for Halloween, check out "Nosferatu" with a live musical score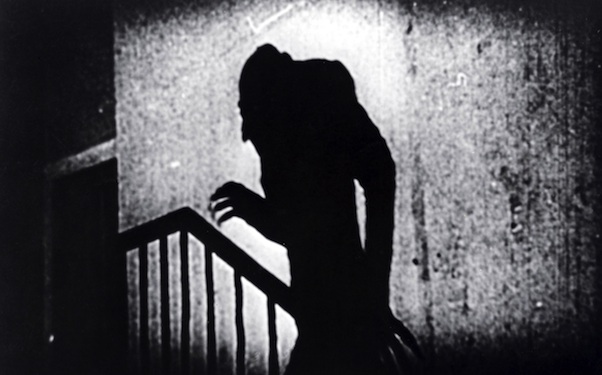 Posted by Matt Singer on
There's nothing quite like a silent film with live musical accompaniment. Earlier this year, I got to see the Alloy Orchestra perform the score they wrote for Fritz Lang's "The Complete Metropolis" at Ebertfest and it blew my mind; the night easily ranks amongst the coolest experiences I've ever had in a movie theater. When a talented composer actually writes the music for the film you're watching, like Alloy did for that version of "Metropolis," that's an even rarer and greater treat.
Folks in Austin, Texas will have a chance to tap into that silent-movie-live-score magic this Halloween weekend, with a special screening of F.W. Murnau's 1922 vampire masterpiece "Nosferatu." On Sunday, October 30, the film will play the Alamo South Lamar accompanied by a live performance by Graham Reynolds and the Golden Arm Trio. Reynolds, the composer of Richard Linklater's "A Scanner Darkly," wrote the score especially for the film. The part you can hear in this two minute teaser below sounds amazing:
Now it's true that you can watch "Nosferatu" on Netflix or YouTube, and if, like me, you're not in Austin, that's better than not watching it at all. But if you are in Austin, and you're free on October 30, you're not anymore.
What's your favorite silent movie? Tell us in the comments below or on Facebook and Twitter.