Five new DC Comics #1s recommended for movie lovers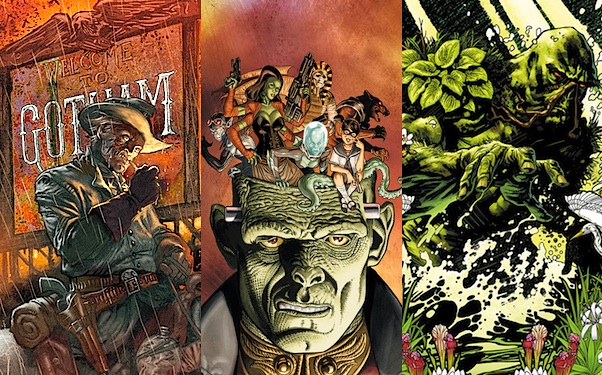 Posted by Matt Singer on
If you don't follow the world of comics, you're currently missing out on one hell of an experiment. Stalwart publisher DC — the guys behind Superman, Batman, and Green Lantern — cancelled every single book in their lineup, wiped out most of their decades of intricate story continuity, and restarted 52 series with new first issues. The new books range in genre from war to horror to science-fiction to mysteries, with plenty of super-heroes besides. There's a few clunkers in the bunch, but there's a surprisingly high level of quality throughout the line, including some really outstanding books featuring some of DC's less famous heroes.
So far, "The New 52," as they're called, have been a big sales and publicity success for DC. But if you're a die-hard pop culture lover and a casual comics fan, fifty new books can be pretty intimidating. With that in mind, I made this list of five series that combine quality and accessibility. Most if not all should still be available at your local comic shop (the rest can be found on your iPad with DC's digital comics app).
---
All-Star Western
For Fans Of: "The Proposition"
Written By: Justin Gray and Jimmy Palmiotti
Art by: Moritat and Jordi Bernet
High Concept Pitch: A vigilante cowboy plays Sherlock Holmes in the Old West.
Why Movie Fans Will Dig It: Gray and Palmiotti, haven't radically reinvented the character of hideously scarred bounty hunter Jonah Hex — subject of last year's infamously bad movie starring Josh Brolin — but they have relocated him to a clever new setting: Gotham City, a.k.a. Batman's stopping grounds, circa 1880. It may be a hundred years before The Joker and Two-Face, but nineteenth century Gotham is just as crime ridden as its modern counterpart. Hex is hired by the flummoxed Gotham police department to solve a series of Jack The Ripper-ish murders alongside a criminal psychologist named Amadeus Arkham (he'll later found the Arkham Asylum that houses the Dark Knight's worst enemies). Gray and Palmitotti's new crime-fighting pair are a perfect odd couple, and the book's evocative, sepia-toned artwork by Moritat and Jordi Bernet is as coarse as a woodcut. If the mere involvement of Hex makes you nervous after the Brolin movie, don't be. I promise you: this gritty crime saga — let's call it a "paleo-noir" — has as much to do with "Dolphin Tale" as the Jonah Hex flick.
---
Wonder Woman
For Fans Of: "Clash of the Titans" (the old, good one)
Written by: Brian Azzarello
Art by: Cliff Chang
High Concept Pitch: Gods versus humanity with Wonder Woman standing in the middle.
Why Movie Fans Will Dig It: If any DC character needed a square-one reboot, it was Wonder Woman. Her comic should be any easy sell — decades of appearances on television have made her instantly recognizable — but her increasingly fractured continuity has instead made her comic instantly impenetrable. Writer Brian Azzarello, best known for his crime book "100 Bullets" strips all of that away in the first issue of his new story, which is dark and moody, and full of old Gods acting like total dicks. Azzarello decided not to begin with an origin story, so it's not yet clear who exactly this version of Diana is, but that's part why this story will resonate with movie lovers: freed of all that bloated backstory, Azzarello's "Wonder Woman" is allowed to be a badass globetrotting mystery sprinkled with big action sequences. Old school fans will get their fill of bracelets and lassos, but newbies will be able to follow right along as well. It doesn't hurt Azzarello's case that he's got Cliff Chiang, one of the most gifted and precise illustrators in comics, drawing his script. If you enjoyed the interplay between modern sensibility and antique mythology in films like "300," this one should strike your fancy.
---
Swamp Thing
For Fans Of: "Altered States"
Written by: Scott Snyder
Art by: Yanick Paquette
High Concept Pitch: A scientist wrestles with his past and possibly his future as the protector of the natural world.
Why Movie Fans Will Dig It: "Swamp Thing" has a long reputation in the world of comics as one of the medium's most consistently inventive series. Created in the 1970s by Len Wein and Bernie Wrightson, Swamp Thing began life as the star of horror-tinged superhero adventures. Under the stewardship of Alan Moore ("Watchmen"), the book became more fantasy-based, as the character discovered he was not a man transformed into a plant by a splash of chemicals, but a plant — or maybe the spirit of all plants — transformed into a man, roughly speaking. Writer Scott Snyder, who is also doing a fine job on The New 52's "Batman," rejiggers things yet again, with Swamp Thing's human alter ego, Alec Holland, back from the dead. Then Swamp Thing — or maybe more accurately a Swamp Thing — shows up to try to convince Holland to take on a deadly mission. Snyder's "Swamp Thing" is a very unusual book; imagine the back-from-the-dead heroics of "The Crow" mixed with the scientist-trips-out-on-fantastical-visions of "Altered States," and then sprinkle just a whiff of "District 9″'s man-transforms-against-his-will dramatics, and you've got something approaching the very interesting stew of genres and styles bubbling through it. Artist Yanick Paquette (recently of Grant Morrison's "Batman Incorporated") ties all those elements together with polished linework and some truly dynamic page layouts.
---
Frankenstein: Agent of S.H.A.D.E.
For Fans Of: "Frankenstein" (Duh), "Hellboy"
Written by: Jeff Lemire
Art by: Alberto Ponticelli
High Concept Pitch:Mary Shelley's Frankenstein as a 21st century secret agent.
Why Movie Fans Will Dig It: Speaking of Morrison, his fingerprints are are all over this new version of the old horror classic, which first debuted in his interlocking 2005 mini-series "Seven Soldiers of Victory." This Frank is the Shelley character alive (or at least undead) in the present day, working for a secret government agency called S.H.A.D.E. to defend humanity from some of the craziest creatures imaginable. Writer Jeff Lemire gives Frankenstein and his Universal horror-inspired team (there's a vampire, a werewolf, and more) plenty of freaky critters to pound on in the action scenes, but he also leaves enough panel space to play with the classic "Frankenstein" theme of the monster who reflects on the monstrousness of humanity. Alberto Ponticelli's Lovecraftian visuals will appeal to horror lovers and the soulful, hideous hero with the team of weirdos fighting potentially world-ending threats should strike a chord with fans of Guillermo del Toro's "Hellboy" film.
---
Resurrection Man
For Fans Of: "Total Recall"
Written by: Dan Abnett and Andy Lanning
Art by: Fernando Dagnino
High Concept Pitch: Every time a man dies he comes back to life with a new super-power.
Why Movie Fans Will Dig It: Because writers Abnett and Lanning have got one of the all-time great comic book high concepts on their hands. Mitch Shelley can't be killed, at least for very long. Whenever he bites the big one, he gets resurrected with a random special ability; one day he might be able to manipulate gravity, the next he could become invincible. DnA (as in "Dan & Andy") created the character in a short-lived late '90s series, but this is clearly a premise with a lot more gas in the tank. Now Shelley is back (again…and again…and again…) with more ambiguity around the nature of his powers and his place in the universe. I think "Total Recall" fans will dig this one; even though "Resurrection Man" isn't really a mind-bending science-fiction book, the two do share a certain structure and tone — the tabula rasa hero who doesn't quite know who he is or what he can do running for his life lives to stay ahead of shadowy, powerful forces who want to destroy him. Original series artist Butch Guice has been ably replaced Fernando Dagnino, who provides appropriately atmospheric visuals in the strong first issue.
---
What's your favorite of the New 52? Tell us in the comments below or on Facebook and Twitter.